Return of the Frog Queen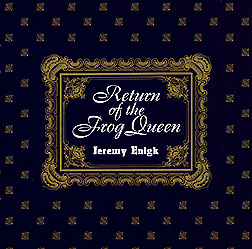 Jeremy Enigk
Sub Pop

Review by Greg Gitzel
---

39-second excerpt from "Explain" (various formats)


Now, this is odd: an artist from Seattle who does not have that Seattle grunge sound that quite frankly so many of us are getting sick and bored of. Something new, something fresh is always exciting, and Jeremy Enigk has delivered just what the doctor has ordered.

Enigk is the former lead vocalist and song writer for Sunny Day Real Estate, another Sub Pop band. Many have wondered, or have even been concerned, whether Enigk could follow up the success of SDRE, but he has come up with a very interesting and moody original album.

Mellow is the general feel, but there are powerful moments as well. Enigk's unique and distinctive emotional voice fits in extremely well with the remarkable music which consists mostly of acoustic instruments and an orchestra. This album is full of artistic beauty and could even be considered a musicians' masterpiece. Highlights are "Carnival," "Abegail Anne" and "Shade and the Black Hat," all well written songs with a lot of feeling. The album as a whole seems to fit well together.

It's great to hear an alternative album from Seattle not sounding like the same old thing. If you're tired of it like I am, check out Jeremy Enigk.



---
First published in Drop-D Magazine on August 23, 1996
Index | Search | E-mail | Info | Copyright

Considering copying some of the images from this story?
Please read this first. Thanks.