Self-titled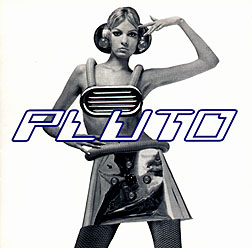 Pluto
Virgin

Review by P. Freako
---

36-second excerpt from "Thirsty" (various formats)


The debut Virgin Records album from local guitar pop favourites Pluto is out and on the airwaves. I use the term "debut" loosely, however, because fans of Pluto are going to listen to this offering and say, "Hey, half of these songs are from Cool Way to Feel!" If this is a long-awaited album for you, you're gonna feel ripped off. And not only were the songs redone, but it seems like every song was made to sound "big," and in accomplishing this, they have stripped away all the character that was oozing from Cool Way to Feel.

The new album is okay, I mean, the new songs are cool and the old favourites are there with "Thirsty," "Details" and the current single, "Paste," but where the indie Cool Way to Feel translated the energy of the band's live show for me, this new major-label effort let me down.

Saying all this, the new disc is still full of good songs, and I like 'em, but I've heard them before. This is a good CD, it's just not a fun one.



---
First published in Drop-D Magazine on August 23, 1996
Index | Search | E-mail | Info | Copyright

Considering copying some of the images from this story?
Please read this first. Thanks.