Crazy 'Bout a Saxophone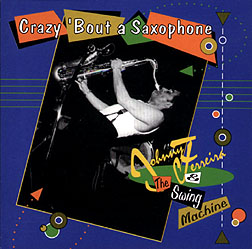 Johnny Ferreira & the Swing Machine
Independent

Review by Gary 'pigboy' Swartz
---

45-second excerpt from "Crazy 'Bout a Saxophone" (351 Kb .au file)


There was a time when Rock & Roll was still in diapers that the saxophone was king. It could be raunchy. It could be subtle. It could get feet moving and your baby hot. It could do a lot of things that guitarists had yet to figure out. It still can -- just ask the Boss or Colin James.

Or go to the source, James' saxman, Johnny Ferreira. Crazy 'Bout a Saxophone offers a good mix of vintage covers like the title tune and "Rock On," as well as original material like "Wine, Women & Song," and will appeal to aficionados or serve as a primer for those unfamiliar with the swinging side of rock. Certainly anyone looking to add something different and highly danceable to a party mix will find it here.

Unfortunately, anyone looking for a template on how a sideman should front a band might look elsewhere. Ferreira needs more confidence in his singing. When he hands off lead vocal chores, something that works gets lost. No, he isn't the greatest singer to come down the pike, but Greg Piccolo made it work when he fronted Roomful of Blues, and 'Cleanhead' made it work for decades. Ferreira doubtless can, and should, too.



---
First published in Drop-D Magazine on October 24, 1996
Index | Search | E-mail | Info | Copyright

Considering copying some of the images from this story?
Please read this first. Thanks.