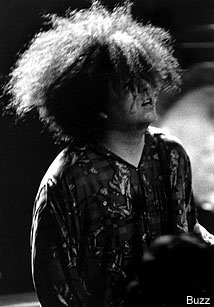 You Just Don't Argue with Joe Mantegna
The Melvins
The Town Pump
Vancouver, B.C.
Wednesday, October 9, 1996

Review by Darren Kerr
Photography by Ed Schuld
---

There's a line from David Mamet's House of Games where Joe Mantegna tells his cohorts, "Well, on this Wednesday evening, the Melvins showed a full to bursting house some dinosaur monolithic rock music of the highest intensity."

Thus, there was an air of great expectancy permeating the crowd; after all, this was the Melvins, Boner Records' flagship band (along with Steel Pole Bathtub), creators of the rat riff classic records Osma and Gluey Porch Treatments, before moving on to the gargantuan riffage of Eggnog, and later Stoner Witch. The Melvins always leave people guessing what their next move is going to be, much like the modus operandi of Ween. With the release of their newest CD, Stag, they may, however, have pushed the envelope too far, as even die-hard fans have written the album off in the same manner as Neil Young's fans have shunned his Trans album.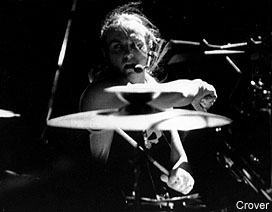 The band's first set (of three) was off kilter. Something was different, and I couldn't figure it out until they started the second set, for King Buzzo was playing bass, Mark Deutrom was playing guitar, and I didn't realize that something was amiss! Such is a testament to the Melvins' individual talents that they feel at home with each other's instruments. The set started with unison harmony notes and Deutrom's single ringing note and built into Buzz channeling Mike Watt as he pounded and throttled barrage after barrage of spastic bass chords and thunderous runs. Dale Crover, to coin a phrase, hit his drums like they owed him money. Near the end of the first short set, they played an incendiary jam which may or may not have been a fractured "Back Door Man" that flat out rocked, baby!
During the intermission, people around me were trying to figure out what they had just witnessed.
The Melvins opened the second set with "At the Stake," with Buzz playing guitar and Deutrom playing bass, everything as it should be. Buzz loomed large over the crowd, looking every bit the dinosaur rock god with his Hawaiian shirt and hair by Proctor-Silex. At the sound of the first riff, a cheer arose from the crowd, for this was the first recognizable song the Melvins had played. From this point on, my spine was tingling and my ears were taken to Amsterdam, Disneyland and Detroit all at once.
Much of what was happening focused on songs from Stoner Witch. They played an amazing "Roadbull" which had the punters in the pit careening around like pinballs while Buzz was shouting... well, whatever the hell it is that he yells in the chorus. Lots of people were whistling along with Crover's military drums rolls at the end. I'm not used to seeing Buzz's head singing "Revolve" while still attached to his body, as it wasn't, in the video, but it was intense. Deutrom played some really funky low-end bass all over the closing coda.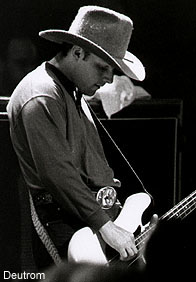 The band also played teeth-jarring renditions of "Queen," "Sweet Willy Rollbar," "Goose Freight Train," and at one point in the middle of either "Magic Pig Detective" or "Shevil," the band suddenly froze for like ten minutes while waves of feedback rose to helicopter peak intensity. This stopped the pit cold as everybody stared at the stage with something resembling awe. The aforementioned "Shevil" was stunning, with Buzz letting the words drip out like he was a displaced deity looking for Shangri-La.
They might have played things off Houdini or Lysol; it's hard to tell when you listen to a Melvins' album. It's a full listening experience where titles are secondary and songs and riffs and even sets blur into each other. At one point, Crover played acoustic guitar while keeping the bass drum going during a blues tune from Stag.
There was no between song patter and Deutrom's facial expression alternated between poker face and very slightly grinning. There was no need for crowd interaction: this show was quite simply and inevitably inspirational, massive, and just plain old fucking marvelous.
---
First published in Drop-D Magazine on October 24, 1996
Index | Search | E-mail | Info | Copyright

Considering copying some of the images from this story?
Please read this first. Thanks.