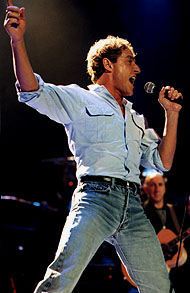 Who (Still) Wants to Know??
The Who's Quadrophenia
with The Matthew Good Band
GM Place
Vancouver, B.C.
Thursday, October 17, 1996

Review by Darren Kerr
Photography by Rodney Gitzel
---

The Who are like that store down the street that has been proclaiming that it's GOING OUT OF BUSINESS for the last half decade. Sure, they sell good stuff, but you wish that they would just hurry up and close their doors and get on with the rest of their lives. This, however, wasn't a farewell tour or a reunion show. This was Quadrophenia.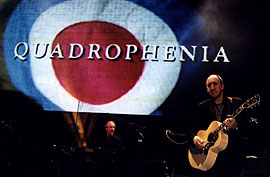 I never felt the need to see Tommy performed live (as it was at the QET a few months ago) because I thought the movie was too pretentious. I also felt that, without the definitive performances of Tina Turner and Keith Moon, the whole production would be lacking that manic energy.
But when the Quadrophenia show was announced, I felt compelled to attend for many reasons. Even though I have never ridden a scooter or scarfed down handfuls of 'blues,' I could relate to protagonist Jimmy and his mates. Sex, drugs, violence and the peer pressure to do them are the cornerstones of teenage existence, just as descent into madness, adult obsolescence, trauma, and pain are the result of taking the above things either too seriously or, worse, not seriously enough. Besides, the songs on Quadrophenia are some of the strongest written of the Who's career.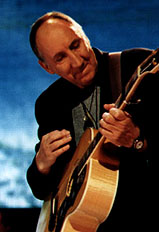 So, there I was at the Garage, and it was raining McVicars and geishas outside. That, and a greedy pseudo bigwig complaining about his tickets in the will-call line, made me miss Matthew Good's opening salvo, but I'm sure that all the CFOX'ers heard their "Alabama Motel Room" and "Syphilitic Whitewalls" and were happy.
They -- and we -- were happier still when the Who trooped onto the stage. Right from the opening crashing notes of "The Real Me," you knew this was going to be an event.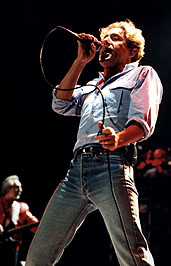 Not only did we have the full Quadrophenia album performed for us, but film footage from the movie and newly shot footage of a new Jimmy was shown on the huge video screen, putting the songs in context for a new generation of rock listeners who haven't experienced Quadrophenia, as well as providing reference points to transport us back to those timeless moments in Jimmy's life.
Zak Starkey (son of Ringo) perfectly embodied the spirit of the late Keith Moon as he flailed away with wild precise abandon. During "Had Enough" and the chaotic instrumental "The Rock," you could close your eyes and imagine that it was Moon the Loon behind the drum kit. Simon Townshend also fared well on electric guitar, especially on "The Rock" and "Love Reign O'er Me," where he and brother Pete (who finally strapped on the ol' electric) combined for some spine tingling harmony lines.
Gary Glitter was a welcome surprise. Making his entrance with "The Punk Meets the Godfather" and dressed like a rocker, clad in leather and studs, he lent the principal players a nervous energy as he powered through the chorus. Billy Idol filled some rather difficult shoes in his role of the Ace Face during "Had Enough" and the showpiece "Bellboy" (complete with an actual scooter on stage). He did an admirable job even though his sneers and air punches came threateningly close to self parody.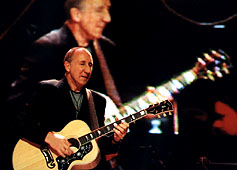 The old boys themselves were in peak form, laying to waste any thought that this was going to be just another cash grab in an age of too many flaccid reunions. Townshend's acoustic set pieces "I'm One" and "Drowned" were perfectly rendered, poignant and beautiful. When he whipped out his trademark electric guitar for the aforementioned "Rock" and "Love Reign O'er Me," it was like the Townshend of old, all windmills and flash. Still, tinnitus must be a real bitch.
John Entwhistle was stellar throughout the night. His jaw-dropping solo in "5:15" brought the house down, blew the doors right off the Garage, pick a cliché, any cliché. His intense high fret slides in "Dr. Jimmy" were equally astonishing. Daltrey's voice was totally up to talk as well, with his full-throated scream at the end of "Had Enough" matching any of his career. "Love Reign O'er Me" and "5:15" were also highlights. The encores "Won't Get Fooled Again" and "Who Are You" were like old familiar friends, coaxing standing O's from the crowd.
But if I had to choose one time capsule moment it would have to be the four-part harmony singing (of Daltrey, Idol, Glitter and Townshend) in "Had Enough." I was completely in awe and you couldn't have wiped the smile off my face with a machine gun.
---
First published in Drop-D Magazine on October 24, 1996
Index | Search | E-mail | Info | Copyright

Considering copying some of the images from this story?
Please read this first. Thanks.