hi-fi and stereo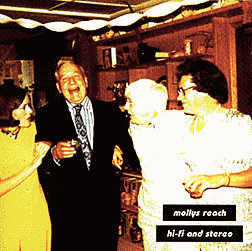 Mollys Reach
Passion/BMG

Review by Greg Gitzel
---

38-second excerpt from "Poppy Song" (various formats)


The debut single "Poppy Song" from hi-fi and stereo states "I wrote this poppy song to get inside your head." Well, it does, and it's not alone, as most of the twelve songs on the CD are catchy, singable tunes. This is the first major release from Edmonton's Mollys Reach (not to be confused with Vancouver's Mollies Revenge), and they've created a fun, simple, ear-catching pop record with influences definitely coming from Sloan and Super Friendz. Highlights are "Tremors," "In Orbit" and "March," not to forget the stuck-in-my-head "Poppy Song." The sound quality is very up to par and Sean Rivalin's vocals are very likeable. Great backing vocals and a solid-sounding band makes this CD a worthy listen.

This album probably won't sell a million copies or win any Junos, but it should develop a strong following. If you like fun, catchy, innocent songs about everyday life, this one is for you.



---
First published in Drop-D Magazine on April 18, 1996
Index | Search | E-mail | Info | Copyright

Considering copying some of the images from this story?
Please read this first. Thanks.