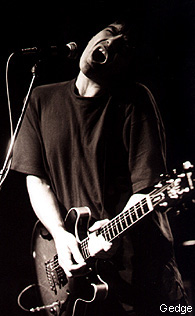 Brits Come Bearing Gifts
The Wedding Present
with Daytona
The Town Pump
Thursday, November 7, 1996

Review by Daniel Ewacha
Photography by Rodney Gitzel
---

The band Versus was scheduled to open this show, but unfortunately they ran into car trouble south of the border and were unable to make the gig. This proved to be, though, the only bad part of the evening -- or just another good thing to add to what was shaping up to be a great evening, depending on how you look at it.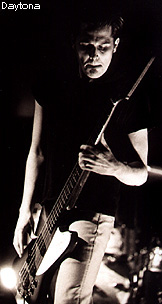 Given just seven hours' notice, Vancouver's own Daytona stepped in to fill the vacant spot and, along with the Wedding Present, provided the audience of Buddy Holly impersonators and Brit-pop wannabes with a glorious night of entertainment. This show was so good that my beer tasted even better than usual! The Prozac-induced atmosphere shared by everyone made this truly one of the best shows this year.
Daytona took the stage and kicked off the show with "Shannon Kissed a Train," from their latest CD, Sustain, and never looked back. Playing for close to an hour, Daytona's melodic mood music worked well with the whole vibe in the Town Pump, forcing the audience to actually move in tune to what the band was offering, an offer which was easily accepted.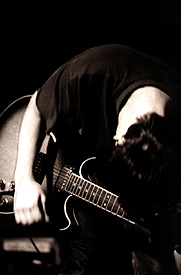 Having just come off a two-month road trip, Daytona proved to be in great and impressive form -- and were modeling a new rhythm section to boot! The new guys on bass and drums fit right in with veterans Colin and Jenny. (It was cool to watch a bass player who actually enjoyed what he was doing, not like a disgruntled lead guitarist forced to play because nobody else will.) It was really fun to watch Daytona this night as they showed why they are one of the best bands in town. They were a welcome addition to the show and the audience voiced their appreciation time and time again.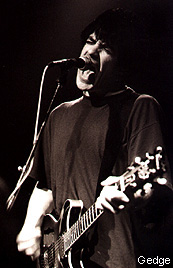 Then it was time for the return of the Wedding Present to Vancouver. They were here only this past spring, but that didn't stop the hordes from showing up to check out the band's new material. Touring in support of their new CD, Saturnalia, the 'Weddoes' hit the crowd smack dab in the face with their brand of alternalove tunes, many of which oddly reminded me of the Fall.
Quick and to the point, the Wedding Present gave hope to those in doubt of live music's future existence by actually performing. This was especially true of frontman David Gedge, who twisted and contorted and rocked out with more enthusiasm and conviction -- and enjoyment -- than most singers could ever hope to muster. Listening to Saturnalia before the show, I was only somewhat impressed with the band's style -- but seeing them live was a totally different story! A Wedding Present live show is a gift that anyone should be lucky enough to receive.
---
First published in Drop-D Magazine on November 15, 1996
Index | Search | E-mail | Info | Copyright

Considering copying some of the images from this story?
Please read this first. Thanks.