Everything Must Go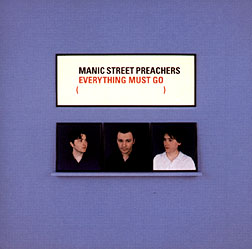 Manic Street Preachers
Epic

Review by Daniel Ewacha
---

44-second excerpt from "A Design for Life" (343 Kb .au file)


The transition the Manic Street Preachers have gone through over the past three years could in a way be chronicled on their latest release, ironically entitled Everything Must Go. Within their control, the Preachers have dropped the glam rock look and have produced a more mature and responsible outlook, image-wise and musically. Beyond their control was the mysterious (and still unexplained) disappearance of lead guitarist Richie James. James' influence on this album is still quite significant, he having written and co-written, with bassist Nicky Wire, five of the album's twelve tracks.

The strongest of these twelve is also the first single, "A Design for Life," a song complete with strings to give it an eerie yet hopefully uplifting quality. Other standouts include the classic M.S.P.-sounding "The Girl Who Wanted to be God," "Removables," the title track and the haunting Richie James-penned "Small Black Flowers that Grow in the Sky."

In all honesty, every track is a standout, and this album is a must for Manic Street Preacher fans and for those who are interested in exposing themselves to new music that sounds nothing like the wave of British music that has found its way over here recently. It's a good thing the Preachers have decided to carry on without James. By the sounds of it, the best is yet to come.



---
First published in Drop-D Magazine on November 29, 1996
Index | Search | E-mail | Info | Copyright

Considering copying some of the images from this story?
Please read this first. Thanks.