The Oranj Panther Strikes Again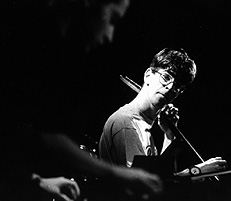 Oranj Symphonette
with the Molestics
The Starfish Room
Vancouver, B.C.
Thursday, November 14, 1996

Review by Paul Watkin
Photography by Rodney Gitzel
---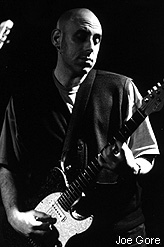 As a young boy, composer Henry Mancini played flute in a band named the Sons of Italy, comprised of Italian immigrants and their sons. Music was born into his soul and he went on to become one of the world's most famous composers. Embraced by Hollywood, he would use the big screen as his medium to bring his music to millions of people through the scoring of numerous major motion pictures and TV shows, most famously Peter Gunn and the series of Pink Panther movies. His passion for live music, however, never wavered and he has been quoted as saying, "I love to bring the music to the people directly." It is in this spirit that Matt Brubeck (yes, son of Dave), one of those affected by the power of Mancini's work, created the Oranj Symphonette, and tonight they dazzled the crowd with their own unique flair and charisma, using Henry Mancini's songs as their medium of expression... and damn it was good!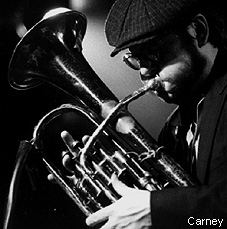 Oranj Symphonette is a pretty jazzed up bunch of cats, so it was no surprise that the runaway train that is Blue Lizard Productions was part of this show. Maxine Von Minx was our hostess tonight, and as the players settled in on stage, she (drink in hand) introduced the Symphonette as a combination between "uneasy listening and grounge." I can tell you that musically they were stellar, playing brilliantly arranged renditions that dripped energy and panache. They never really tried to recreate the songs note for note, but rather chose to capture the essence of the songs and then run off in their own direction, often in a whirlwind of musicianship. Amidst this sea of manic playing however, one could still hear each individual part and, as quickly as it grew, they would bring it back down, and reveal the core of the song once again.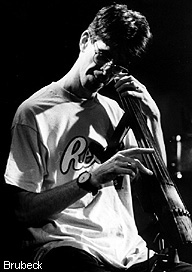 Utilizing such instruments as the cello, upright bass, clarinet, electric guitar, saxophone, a duck caller, organ and a couple of homemade woodwinds at various points, they spun a web of underground jazz and let that web drop upon our senses. The swingers in the crowd began to dance and absorb the energy of the performance.
The highlight of the set for me was "A Shot in the Dark," a secondary theme from the Pink Panther movies, in which they wandered off and built up this dazzling whirlwind of orchestration that left me spellbound [Rodney: it was stunning, indeed]. Then, just as easily as they built it up, they dropped it down to the swanky, sultry "Pink Panther Theme," with Ralph Carney seducing us with his saxophone. It was one of those musical moments I shall not forget.
Mixing up the repertoire, Oranj Symphonette treated us to such classics as "Experiment in Terror", with its lingering cello and an uptempo version of "Moon River." They ended with the clown-like "Baby Elephant Walk" and Ralph Carney bid us a goodnight, but we wouldn't let it end quite yet, and finally after two encores our journey had come to an end. Whew! That was one great show. Now let me tell you how it began.
Those Blue Lizard darlings, the Molestics, opened up the night's festivities and, bringing back memories of my previous life as a gangster in Old Montreal during the Roaring Twenties, they hit us with their jazz laden, ragtime stylings and had the mob swingin' their hips and wettin' their lips. From under a thin layer of cigar smoke hanging above the floor, damp and dank, each floorboard soaked with gin and the sweat of generations past, rose frontman Mike Soret, looking like a character from an Ed Wood movie who was changing into a werewolf. Basking in the glow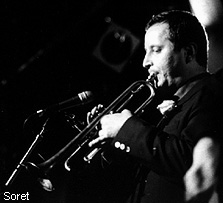 of his twisted face, he at times shrieked out his words before laying his mouth on the trumpet to relay his state of flux. Performing "Hui Mawahoo Ka Waa," they spun me around dazed, leaving me thinking I was in Polynesian Town, with Cognac, slapping a poor island girl, but I was immediately brought back with the phrase, "I'll get an abdominator, I'll look so good, you'll think I'm gay." Yep, the Molestics have a sense of humour to be sure, and they displayed it over their tight jazz / ragtime beats. They were great.
In fact, this whole night was great, and for a mere couple of hours everybody at the Starfish Room tonight experienced the pure elation and wonder that only music can evoke. So I will say goodnight bidding a fond adieu to the Molestics, Oranj Symphonette and Henry Mancini.
---
First published in Drop-D Magazine on November 29, 1996
Index | Search | E-mail | Info | Copyright

Considering copying some of the images from this story?
Please read this first. Thanks.