Have Dog, Will Travel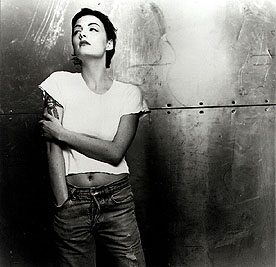 Coffee with Vancouver's own Holly McNarland
Interview by P. Freako
Live Photography by Suzanne Goodwin
Promotional stills by Patrice Bilavka
---

35-second excerpt from "Stormy" (various formats)


Sitting in DV8, a cool little café type bar on the outskirts of downtown Vancouver, I was waiting for Holly McNarland to finish an interview already in progress. There was another interview scheduled after me. I don't mind waiting, and hey, her cute, spunky dog Owen did keep me company. Obviously, today was interview day for Holly. Not just an interview, but interview day. Attention is rapidly growing for Holly McNarland and it seems the more awareness Holly devotes to her inner self, the more attention she receives for her music. Hailing originally from Winnipeg, she moved to Vancouver three years ago to experience and surround herself with music. The choice to move has so far been a good one.

It's a good thing I didn't have to find Holly in a crowd, because I hadn't met her before, and all I had seen of her were pictures from her CD and press kit. She was sporting a buzz cut on this day which was far different from the pigtails and longer hair she had before. "We were in Vernon playing with the Matthew Good Band and we didn't want to go home, but of course we had to, so both bands decided to shave their heads; it's kind of a fresh start." I can't argue with that -- what the hell else are you going to do in Vernon? A fresh start may accurately define the recent past for Holly. She has now secured management from Los Angeles -- "we just did the paperwork" -- put out an independent CD, Sour Pie, which has been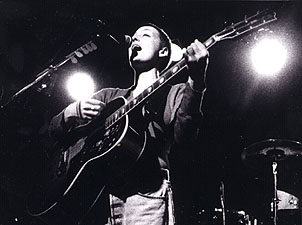 atop the Sam's Indie Chart for a number of weeks, and has just inked a deal with MCA Canada. But, most importantly, she has put together a band that she feels is the cohesive unit she has been looking for and hopes that they will stay together for a long time to come. Bassist Mark Pullyblank, guitarist Sid Johnson and drummer Adam Drake complete the lineup. After having seen Holly McNarland open up for the Skydiggers at the Starfish Room I can see why she wants to see this band stay together for a long time. This is a good band and their heavier rock style complements Holly's intensely powerful voice. As a musical unit, they are a cohesive complement to Holly's "personal" stories and lyrics.
This cohesiveness has been overshadowed in the past. People could never quite put the beautiful voice to the honest reality of her songs. When they looked at the CD and saw her in a tank top, tattooed, cigarette hanging out of her mouth, with pigtails and sunglasses, they became confused and missed the point. "If there is one thing I could tell people about the CD, it would be to listen to the lyrics... when you hear the lyrics it all makes sense... listen to the lyrics before..." I interrupt at this point: "Before people compare you to Sarah MacLachlan?" "Ya," says Holly. Anybody
who has seen Holly perform, however, will be able to tell you that her voice has that extra biting twist which make her songs uniquely her own.
Holly now has the pieces in place. She has surrounded herself with people who believe in her musically and personally and who will be able to help her with her creative career. What next? Hitting the road. "I always want to be on the road." After playing Music West in May, she will be heading down south to L.A., and when she crosses back north of the border she plans to tour the country back and forth. Ahh, she'll probably throw in some recording too. This is a hectic schedule, but Holly appears to be a restless soul and I'm even more convinced of this after meeting her dog Owen: this energetic little fella was runnin' around the bar having a great time. They say that pets start to take on their owner's personalities. "I'm trying to teach him to come up on stage with me and sit by the mic, but he hasn't done that yet." Hmmm, better save that for Letterman.
So now that Holly has a bunch of road warriors ready to hit the highways, what is this all leading to? "Right now the big thing for me is to not take things too seriously... I'm kind of testing the waters right now." Make no mistake though, while she takes her songwriting and career seriously, she has a strong sense of perspective. "I'm still young, I'm learning to play different instruments and I'd like to start writing with other people... but only music. The lyrics are too personal for me to share right now... until they're done. Then people can see."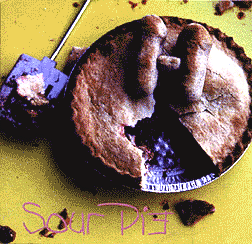 Very early in Holly's live career, she opened for Acoustically Inclined at the Spectrum in Winnipeg and had her very next show broadcast live on radio. You might be under the impression that it was all in the cards, but actually Holly deliberately surrounded herself with opportunity and growth, allowing herself to open up and shed honestly what is in her soul, thereby ultimately translating this honesty into her songs. If she's just testing the waters right now, then we are in for a musical treat in the upcoming years.
Having received critical acclaim for her live show, her CD and her songwriting, Holly McNarland will probably have to set aside more than one interview day at a time in the near future, but maybe by then she can teach Owen to handle a couple of interviews on his own.

[Holly McNarland's next show is on Friday, May 3rd, 11:00pm, at the Town Pump, as part of Music West '96.]
---
First published in Drop-D Magazine on April 25, 1996
Index | Search | E-mail | Info | Copyright

Considering copying some of the images from this story?
Please read this first. Thanks.