Lucky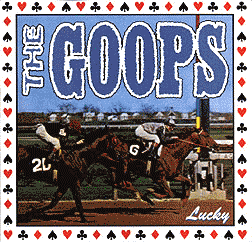 The Goops
Reprise

Review by P. Freako
---

35-second excerpt from "Change Your Mind" (various formats)


Lucky, the latest release from New York punk rockers the Goops, is filled with sexually-charged, straight to the point songs which move along at a rocket-like pace. Every time I listen to it, I get lost, my mind wandering about, fantasizing about pseudo-orgasmic situations like setting straight all those wackos I've always wanted to tell off. The song "You Wish" carries bulimia as an underlying theme: "she's on her knees in the bathroom...again," attacking the ideals that our magazine-cover pop-society lashes us with. "Change Your Mind," a hooky tune, kicks off the CD, while harder-edged songs such as "Yeah, I Know" and "I Don't Want To Be Like You" head straight for your guts. "Hard Candy," possessing more of a sultry feel, accentuates the fact that Lucky drips hardcore sexuality from its pores.

The variety of styles on this release, while underscored by anger, incorporate a harmonious aspect throughout. Frontwoman Eleanor Whitledge's vocals have an intense conviction, while guitarist Brad Worrell delivers in fine fashion. His guitar swims aggressively throughout Lucky, giving the CD a rare, honest diversity that retains its street level roots. The production, thankfully, is not over-polished, although it is not as up-front as I had hoped. I guess I'll just have to revel in the universal pleasure of turning it up damn loud and pissing off the people upstairs -- oh well -- and I suggest you do the same. Lucky not only gets the three fingered rock salute, but the middle finger punk salute of approval, too.



---
First published in Drop-D Magazine on April 25, 1996
Index | Search | E-mail | Info | Copyright

Considering copying some of the images from this story?
Please read this first. Thanks.