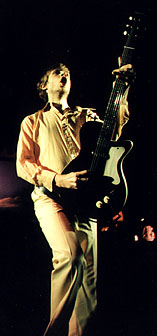 Traipsing Through the Jazzy Trip-Hop Bayou
Beck
with Olivia Tremor Control
UBC Students' Rec Centre
Vancouver, B.C.
Thursday, February 6, 1997

Review by Darren Kerr
Beck photography by Paul Clarke
---

From Athens, Georgia, came the Olivia Tremor Control, with their psychedelic Beatles/Beach Boys pop hybrid. Championed by critics and musicians alike, their Flydaddy release Dusk at Cubist Castle graces a plethora of best-of lists all over the continent, as does work by kindred spirits Apples in Stereo. Even though OTC's sound mix left a lot to be desired in the lead guitar department, their pristine vocal harmonies (sometimes five-part) really shone through. It was difficult to become engulfed by the subtle hypnosis of the bassist's exquisite clarinet or the guitar player's multi-instrumental prowess with the yattering of the trendy Jacks and Jills standing around me. Nonetheless I really enjoyed them, and I would like to experience them throwing their own party in a more intimate venue. Buy all the albums on the Flydaddy label, graft your headphones to your head and be prepared to fly.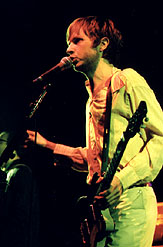 After a long cigarette and a short wait, Beck's band took the stage and set down a groove. After a quick flash introduction, Beck Hansen himself hit the stage and immediately freaked the joint. They proceeded to give us blistering versions of "Devil's Haircut," "Hotwax," "Lord Only Knows" and "Novacane," with Beck twitching like a shock patient. He moved like a hopped-up cross between John Travolta and Jerry Lewis.
Meanwhile, Smokestack laid down the guitar riffs thick and meaty while Showboat (yes, those are their names) flogged his bass in a propulsive slap and throttle manner reminiscent of Mike Watt. DJ Swamp showed everyone that he could manipulate a turntable as good as any old school DJ with an awe-inspiring exhibition of sleight-of-hand scratching. "Loser" had the crowd singing along, of course. Large lights, which looked like Rubik's Cubes, then appeared at the front of the stage and "Derelict" dragged us through a jazzy trip-hop bayou, complete with eerie percussion and Smokestack playing guitar with a violin bow à la Jimmy Page. Throughout the show the band and the stage lights were as one; when the players would reach a higher level of manic action, the lights would go absolutely apeshit.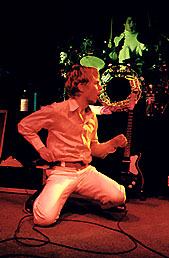 The band left the stage leaving only Beck and his acoustic guitar. Just a man and his music, no leaf blowers, no gimmicks. Among the tunes that he played were "Asshole," "I Get Lonesome" and "Canceled Check," the latter inspired by marketing/infomercial czar Anthony Robbins ("Your past is a canceled check, your employment (?) potential is now").
After this song it was time for Arts and Crafts as members of the audience bestowed portraits upon Beck. "I look elfin in this one," he said as he held one aloft. "I guess this one is me as a serial killer," he remarked as he displayed another which reminded me of a famous Lennon portrait. Then he whipped off an a cappella "One Foot in the Grave," playing more harp as the audience clapped along. The band returned and Beck was once again infused with kinetic energy, that is until the keyboard player reminded him that the next song was mellow.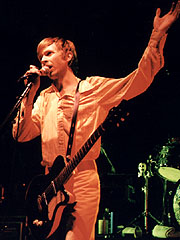 "Reach out and touch someone you like, or someone you don't like, just touch somebody," Beck suggested as they floated into "Jackass." The guitar sound was as calm and clear as ripples in water. Music to do the stadium sway to, and me without my Bic lighter! The next two songs showcased some tasty barrelhouse piano and Hammond organ by the oddly named keyboardist, Air Traffic Controller. "Where It's At" had everyone doing the jive and shouting the chorus while Beck styled all over this tribute to old school funk. "Sissyneck" took it to the country with its truck stop beat-box sound.
"Now we're gonna take the funk to the streets, all the way WEST COAST!! This is gonna be a workout," the bandleader yelled as they kicked into the Mellow Gold favorite, "Beer Can." YOWZA!!! The wunderkind led his band in calisthenics as if Richard Simmons had joined the Ohio Players. They did jumping jacks, torso twists and deep knee bends in perfect synchronization, and, after this vicious funk workout, they left the stage to thunderous applause.
Following a short break the band ran back out onto the stage wearing animal masks, while Beck returned sporting a rhinestone cowboy leather jacket. They ripped into "High 5 (Rock the Catskills)" and Beck went spastic trying to get us to sing. I couldn't understand a word he was trying to get us to sing, and I don't think he understood this fact, 'cause he left kinda pissed. And that was that.
Three words: Believe the Hype.
---
First published in Drop-D Magazine on February 14, 1997
Index | Search | E-mail | Info | Copyright

Considering copying some of the images from this story?
Please read this first. Thanks.