Nico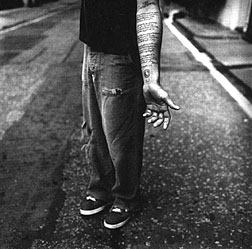 Blind Melon
Capital

Review by Darren Kerr
---

45-second excerpt from "John Sinclair" (various formats)


I still say that late Blind Melon vocalist Shannon Hoon sounded like a hippie Jon Anderson (from Yes), always pushing his voice to get that tautness, that strain -- almost to a whine. That voice, coupled with the memorable character from the "Bee Girl" video, struck a chord with MTV viewers from San Dimas to Cape Cod and propelled Blind Melon to great heights of success and staggering lows of excess. And everytime a rock star dies from his or her vices, we are forced to think about what that that person could have become -- and what they left behind. Like Kurt Cobain, Shannon Hoon left behind a baby girl, to whom this album is dedicated and named for: Nico Blue.

This album compiles outtakes from Melon album sessions, spur-of-the-moment European recordings, no-pressure vacation jams and pretty tidbits from hotel rooms. The only songs that don't feel natural are the blues cover of "The Pusher" (which is actually quite annoying) and "No Rain (Ripped Version)," which takes the hit single and weighs it down with drum breaks straight outta Zep's "When the Levee Breaks" -- and which also sounds like Hoon might be too high to realize what he's doing to his song. Stand out tracks include the marching band slide guitar funk of the Lennon song, "John Sinclair," the acoustic "Soul One" and the percussion-heavy "Glitch."

This is not a posthumous rip-off, but rather an act of closure.



---
First published in Drop-D Magazine on February 21, 1997
Index | Search | E-mail | Info | Copyright

Considering copying some of the images from this story?
Please read this first. Thanks.