Emancipation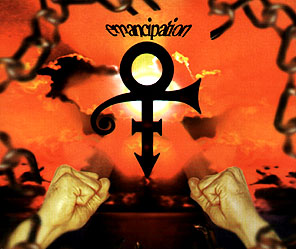 Prince
NPG Records/EMI

Review by Daniel Ewacha
---

45-second excerpt from "One of Us" (various formats)


[Editor's note: To simplify this review, we are referring to Prince as Prince; he can call himself The Artist or a symbol or whatever, but we'll call him just "Prince."]


Trying to comprehend and enjoy one Prince album these days is a very difficult job indeed. So, when I was handed the new Emancipation CD and told there wasn't one but three new discs, I immediately thought of the person I couldn't stand the most and revelled in the idea of torturing them with absolutely no mercy.

I miss the Prince of old, of the Purple Rain and Graffiti Bridge era. But, after listening to all songs on Emancipation, I was happy in the sense that I could enjoy 18 of the songs while using the other 18 in the above-described evil way.

On this new album, Prince shows both the creativity of old and the image-conscious, egotistical bullshit he is known for now, albeit in a somewhat interesting way, alternating the good songs with the bad, thus showing his inability to provide his fans with a truly great album. The 18 songs worth listening to could make up two full-length albums, but it seems that Prince's case of the Madonna Syndrome -- trying to make something larger than life with no hope of succeeding -- got the best of him.

It's also quite apparent that his recent marriage has had a huge influence on making these records. There are the pathetic, futile, love ballads mixed with the powerful musical statements, with song titles such as "Let's Have a Baby," "Right Back Here in My Arms," "La, La, La, Means I Love You," and "Dreamin' about U." Ironically, and quite surprisingly, it was the awesome cover of Joan Osbourne's "One of Us" which proved to the best song of the 36.

Prince is truly one of music's greatest talents at the best of times -- and a has-been at the worst. But one thing you do know is that with everything he does, he puts 100% of his soul and mind into it, no matter how strange it may be.



---
First published in Drop-D Magazine on February 21, 1997
Index | Search | E-mail | Info | Copyright

Considering copying some of the images from this story?
Please read this first. Thanks.