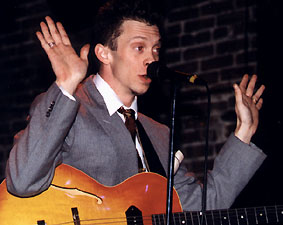 Zipped Up to the Nines
Squirrel Nut Zippers
with The Colorifics
The Gate
Vancouver, B.C.
Saturday, February 15, 1997

Review by Andrew Parker
Squirrel Nut Zipper photography by Rodney Gitzel
---

"Lounge." Just what does this oddball word that rolls so well off a lubricated tongue really mean? Are we speaking about a state of mind, a lifestyle choice -- or is it merely a once-a-month adventure in a shimmering suit? My mind spinning from this earth-shattering conundrum, I watched with earnest interest as the Gate filled up with the arrival of attractive folk in spaghetti-strap dresses and thin shiny ties.

Kicking off the evening were the Colorifics, a Vancouver band which looks as much as it sounds like lounge-pop. The guitarist, a dead ringer for Stephen Dorff in his Backbeat days, definitely had it goin' on with an awesome ducktail and a fat Gibson in his hands. Throughout the band's set he impressed the assembled with spicy open tunages and tightly woven lead runs. On "City Day," he singlehandedly contributed to thawing out the crowd with an adventurous, noodling solo. I'm convinced martini sales mushroomed following his display of essential lounge mood-music.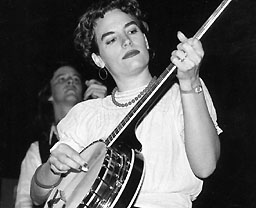 My favourite moments in the Colorifics' set occurred throughout their rendition of "He's Playin the Fool," a nugget of cocktail nostalgia rendered in expert fashion. Swinging ever so carefully, the song inspired most of the audience to bob and weave to the infectious rhythm. The vocalist's sultry voice charmed the crowd as well, although a few people were already enthralled by her outfit, a head to toe satin wonder speaking a language of its own.
The lowpoint of the opening act occurred during "Hastings and Main," an attempt by the Colorifics to underscore the pain and loneliness of life at Vancouver's vibrant, however infamous, corner. Poignant lyrics and portraits of substance abuse and death got lost in an atmosphere celebrating cigar smoke and tall, blue drinks.
Nevertheless, when the set ended and the 'Ramsey Lewis' house music flooded the room, it was obvious that people were thrilled to have entered the realm of the Colorifics.
Less than a full turn behind the 'midnight hour', with the Gate at full capacity, seemed an apt moment for North Carolina's Squirrel Nut Zippers to take the stage. Fill up the stage they certainly did, jamming the boards with an array of instruments and a gang of talented, larger than life musicians. Keeping pace with the fashionable Colorifics before them, the six members of the Zippers were also dressed to the nines, retro suits and winged tipped shoes figuring highly. It struck me, though, that while the Colorifics appeared dressed for the stage, the Zippers were at ease in their duds, suggesting that they throw them on every day.
Busting loose with a ragtime-, New Orleans-inspired number, the band saluted its roots by paying homage to people such as Louis Armstrong and his hot Fives. Consummate musicians all, the band members displayed incredible versatility, each of them playing a number of different instruments during their set. On "Way Down South," a steamy ballad with a fibrous guitar line, Zipper funny man/vocalist Jim Mathus wowed the crowd by setting down his guitar amid applause, only to respond by belting out a killer trombone solo. Yes, a trombone! All in a day's work I suppose.
Other members were equally as talented, including a trumpet player so slight and unassuming I was afraid the perpetual Granville Mall winds might carry him away. However, when he raised his horn, the danger existed for the audience, who risked getting an ear scrubbing by the maelstrom of sound hurtling out of the trumpet. Vocalist and banjo player Kathleen Whalen's contribution was also fantastic to witness. Her presence and voice were so sublime that I felt convinced that on Judgement Day she'll be the person to welcome me to 'the other side.' Evoking the 'Hide and Seek' follies of the 1920's, Whalen is truly a deliciously offbeat performer.
In the end, after nearly two hours of foot-stomping, Carolinian soul-food, the Zippers graciously returned for a lengthy encore. On their first visit to Canadian soil, the band zipperized the audience and added several hundred new 'nutheads' to their rapidly expanding collection of admirers.
---
First published in Drop-D Magazine on March 15, 1997
Index | Search | E-mail | Info | Copyright

Considering copying some of the images from this story?
Please read this first. Thanks.