Original Fire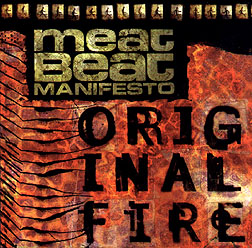 Meat Beat Manifesto
Nothing/Universal

Review by Darren Gawle
---

45-second excerpt from "Helter Skelter '97" (various formats)


A 10-track retrospective of Meat Beat Manifesto's career over the past nine years, Original Fire showcases an electronic band that not only rocks hard (if that's at all possible, and, after you hear this album, you'll believe it is), but rocks harder than most "rock" bands around.

To put things in context, 1989's hard-assed "Radio Babylon" predates the Chemical Brothers by five years and sounds light years beyond the acid house that dominated the electronic scene at the time. The song's inclusion of a Boney M sample that ends up sounding as far from stupid as you can get is the icing on the cake, and on top of that this CD gives us two refreshingly different remixes of the song by Luke Vibert and the Orb.

Add to that the psychotic "Helter Skelter '97" and the surprisingly melodic "Asbestos Lead Asbestos" and you may well start wondering what the hell the point of guitar-pop is, anyway. But, then again, why choose when you can have it all?



---
First published in Drop-D Magazine on June 20, 1997
Index | Search | E-mail | Info | Copyright

Considering copying some of the images from this story?
Please read this first. Thanks.