All Aboard the Magic Shuttle Bus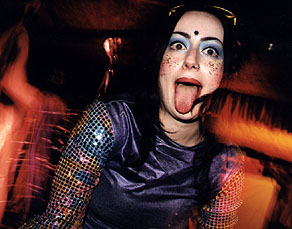 Music West '97
Vancouver, B.C.
May 9-10, 1997

Text by Darren Kerr
Photography by Suzanne Goodwin
---
Friday, May 9th, 1997
You know, at first it didn't look like this night was gonna have anything even remotely approaching a creamy white centre. I walked to the Cargo Records anniversary party at the Starfish Room cursing my slow death phone job, and I received my beer tickets while retching at the sound of bad techNO.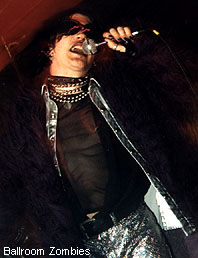 But then we went away to the brass and neon of the skin haven Penthouse to experience Winnipeg's Ballroom Zombies, who turned out to be glammed-out excellence. Sporting an undead Revlon slut look, they cranked out a harmony-laden set of poison lipstick originals that were in the vein of Brett Anderson -- verrry British, verrry decadent. The singer, wearing an oversized fuzzy pimp jacket and wraparound shades, chastised a mic stand for being difficult ("now you listen here, mic stand... "), tried to coax the audience into various stages of undress, and almost fell off the bloody stage. The bass player looked like the guy from the band Meryl Streep (from the Tom Hanks movie The Money Pit) while the guitar player was all cool swagger. Tight, catchy and enjoyable to the max factor. From Winnipeg, eh? Who'da thunk it.
When last I commented on Ten Days Late, they played a cozy little shoebox in Surrey, and they were really good... and different. This night, however, all nuance was gone and the point/counterpoint guitar riffs sadly missing. The whole set sounded like Susan Powter fronting a band playing fifteen variations of the main theme of L7's "Pretend We're Dead." I heard that after their set, singer Renee was sad. Don't worry, Renee. I may have written off L7, but I still think on most nights Ten Days Late kick mighty backside.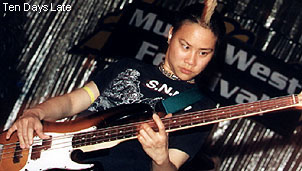 The next band to grace the stage was Seattle's Super Sonic Soul Pimps. Dressed up in paramedic whites, they looked like crew members of the Love Boat. Yeah, okay, they were funky, but it was Wonder Bread and Skippy Peanut Butter funk, like if one of the Nylons replaced George Clinton in P. Funk. You expected them to break into "Do Fries Go with That Soft Drink?"
Still, applause has to go out to the spectacled freak keyboardist who was brightly lit like some nerd Satan, lunging and grimacing like someone had stolen his keys to the AV room. There were some entertaining bits, particularly the Schoolhouse Rock of "Action Verb" with its falsetto chorus and propulsive bridge, and "Exclamate," which actually had a few people shaking ass. I think that people, myself included, expected them to be, well, like pimps, extolling the virtues of booty, and inspiring the minions to shed their outer layers and get some action.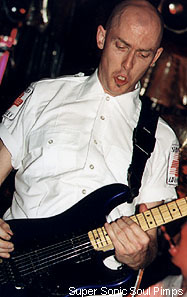 Instead, that inspiration, as usual, came from the inimitable Muscle Bitches. Unfortunately, you'll have to make do with the pictures, as I had to go catch the last Skytrain home.

Saturday, May 10th, 1997
The Afternoon
The afternoon cotillion at Robson Square was advertised as the Kick Butt Soundstage, but there were all kinds of people smoking, which warmed the cockles of my lungs and made me wish I'd arrived in my Joe Camel shirt smoking a massive stogie. Unfortunately, you needed to be smoking something way stronger than Virginia tobacco to be able to make it through the incarnate dullness that was Tariq's set. Looking like Merlin but sounding like a no-salt Cracker, Tariq was smiling for the duration. Why? Because he knows his album is going to do just fine on radio -- the bland leading the bland.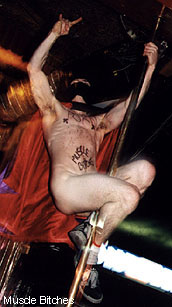 The problem with traditional Celtic bands is that they are hard to review. You find yourself writing "First song, he played the shit out of his violin. Second song, he really played the shit out of his violin. Third song,... " Well, you get the idea. Leahy, from Lakefield, Ontario, demands more description. Walking onstage, the whole lot were dressed in black, porcelain dolls daring the sun to melt them. They performed jigs and reels that had some members of the audience doing the gumboot cloggeroo along with the dancing sisters. Of course, the played "The Devil Went Down to Georgia," which had good four-part harmony from the Leahy sisters, but the devil's part was strictly diluted evil. The bass player displayed wicked chops as she slapped and tickled her headless Steinberger. On the fiddle special, "Orange Blossom Special," the main man with the bow was godlike, playing faster than I've ever seen and doing tricks with plucked strings that had me all a' thrill.
Now it was time for the pollutants to take over the river, for Grandma and Grandpa to have their Polygrip tested by the ominous guitar melodrama of Copyright. Given to disappearing acts since the release of their Circle C album many moons ago and slightly stunned from music industry pitfalls that would kill most bands, Copyright shot out of the gate with a gorgeous sonic tapestry which reminded me of King Cobb Steelie. Then the real show began. Halfway through the first song, the PA crapped out totally, pissing off singer/guitarist Tom Anselmi who throttled and shook his guitar in frustration. He then spat on someone in the second row -- seriously, I saw it arc. This prompted a hairy Metallica fan to exclaim, "Let's spit back." No one did.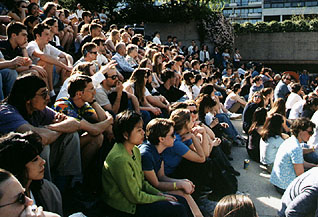 The techs finally got the sound fixed and Anselmi warned "Smoking is bad. Don't smoke. It's an industry where a certain few profit from many, even Music West." I don't know if this was true and I didn't care as I lit another cigarette to celebrate the tension. Copyright proceeded to punish the audience with gothic overtones and skewed pop vision. Guitarist Christian Thorvaldson scowled the whole time whereas I was chortling with sadistic glee.
Following this spectacle was Calgary's Zuckerbaby, sunny, poppy, shiny, happy people type stuff done as well as anybody. The singer, who looked like Jeff Daniels having a vintage Ray Davies hair day, possessed a strong, sweet voice which he used to full advantage. The harmonies were postage stamp tight. You knew this band was cool just by the metallic gold Les Paul and blue Rickenbacker guitars. They had talent and presence. The guitar player looked like a Trouser Press magazine poster boy as he laid out killer melody lines. They had the crowd smiling in the sunshine. Look for their newly released debut CD. If you like Zumpano, you'll dig Zuckerbaby.
With the arrival of midriff-baring girls clad in t-shirts proclaiming "Girls Rule" (I even saw a shirt that said "Men Suck" and wondered if this was a description or a command), and the display of clothing with the label "Diesel for females," it was time for Mollies Revenge.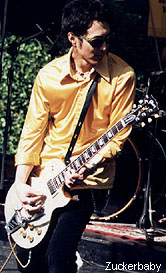 Dressed in big overalls and Fruit of the Looms (more on this later), lead singer Yvette led her charismatic troops through an exquisite set which should definitely covey the message to David Foster that his money was well spent. The whole band is eye candy, whether you're watching Yvette fondle the other band members or high kick across the stage, or watching guitarist Adam Popowitz deftly staggering and leaping, or even checking out bass player Marlow Holder just being funky.
The sound mix was exemplary. You could hear Lisa Wagner's cello crystal clear, especially on the eerie intro to the Kinks' classic "Lola." They have such a full sound live you could've probably shut your eyes and thought you were in the studio. Yvette was way playful as she made lascivious gestures towards Wagner's lower cello region and snaked around the crotches of the guys. She also let her undergarments flash a little as her overall straps slipped off her shoulders.
We were given note perfect renditions of "Cruel Anger," "Weed," "Every Dirty Word" and, of course, the single "Humble." With this high level of musicianship and spectacle, Mollies Revenge will indeed break far and beyond, a prediction hammered home by the thunderous applause when they left the stage.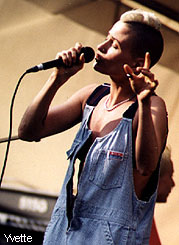 I left shortly thereafter, upholding my resolution to not see any Age of Electric spinoffs, Bloody Chicletts, or go near anything Rusty.


The Evening
Ya know man, this city never disappoints a people watcher. I watched two guys dressed in Technicolor dream coats (one, a high haired Michael Richards/Dweezil Zappa hybrid, the other resembling Red Dwarf's Lister) doing an entertaining human beat box busk complete with Mr. Microphones, Eddy Grant covers and Fisher Price's My First Recorder. They wowed punks and hippies alike. Then I went to Templeton's where we were treated to some spoken word from Germain, patron saint of goon babble. Much to the chagrin of the diner's owner and staff, St. Germain spun forth unforgettable lines like "lesbian foot smells turn on St. Germain," "St. Germain loves all the beautiful lesbians," and the old standard "I am a paranoid schizophrenic." What does this have to do with music? Absolutely nothing, Bunky, just setting the mood.
We then ventured into a packed Roxy, shock full of Rico Suaves, receding hairlines, cel phones and yuppie flesh, to catch Kelly Brock's set. This is where I want to point out a fundamental flaw in the Music West guide -- in particular the "try this if you like" description for each band. Whoever came up with the descriptions must've been huffing paint. "Beck"?!?! Kelly Brock sounds like Beck like Tom Jones sounds like Captain Beefheart!! In this astral plane Miss Brock is somewhere in the purgatory between Joan Osbourne's pseudo pontifications and Sass Jordan's blues-based bollocks. She did all the things that pathetic blues divas like to do: braid-shaking, torso-thrusting, and, of course, introducing her band members individually. They were instrumentally proficient but dull, boring, square -- you know, four corners. Where's that Georgia boy who can play the bongos with his feet?
It didn't get much better at Graceland, where Moncton's Monoxides were galloping through a set of heavy rock that could've been subtitled "raise yer fist and suck." All the choreographed KISS poses in the cosmos are worthless if the tunes don't have hooks or identity -- what you end up with is Fu Manchu by way of ZZ Top. They even had a song called "Little Bitta Rosie" which didn't sound like a whole lotta anything. The singer/guitarist shook his hair at us in celebration of the power of rock, showed off his shirt (if you're going to British Columbia, be sure to wear some flowers on your shirt) and introduced every song like he was tweaked on crank. They did have their rock star-voguing down pat, though. I would still like to hear their Galaxy of Stooges album to discover if there are any gold nuggets buried within their mountain of sound because, to be fair, the sound mix was FUBAR right from the word go.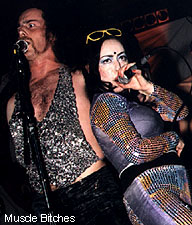 After they finished we hopped aboard the (free!) festival shuttle bus. Destination: the Brickyard.
I love the Brickyard. The murals are impressive, the place is comfortable and the ambiance is a vibrant cool. Nothing like the trendier-than-thou tableau you find at quite a few other clubs. Let's hope that this fine mix of cheap hooch and live music lasts much longer than the average venue du jour.
Playing there were 1000 Stamps ("try us if you like old Rheostatics" WHAA??!). I took one look at the singer and thought "God, if you put her in a short Catholic school get-up she could give Christina Amphlett a run for her textbooks." She had the right mix of aloof beauty and stone drunk charm which add up to real sexual power. I couldn't understand a word she was singing and I couldn't have cared less -- I was just happy that she was singing to ME. The band was a good glomming of Stonesy raunch and new wave quirk, with the guitar and bass players looking sooo happy to be onstage. At one point she said "oh wow, the guys are getting naked" as the treetop-tall bassist and Rollins intense drummer shed their shirts. If I had been granted one wish it would've been that she, too, could've... but I digress. If they had broke into the Divinyls' "Science Fiction," I certainly would have thrown all my books away.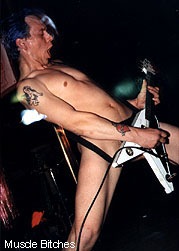 Then, back on the shuttle to Graceland to experience the jazzy blues virtuosity of hippie gods Big Head Todd and the Monsters. It's got a beat and you can dance to it; I'd give it an 89. Actually you can lambada, skank, frug, spin, shimmy and shake to it. I know -- I danced them all. In the right mood, with the right company, head bands like Phish, Moe, Colonel Bruce Hampton's Aquarium Rescue Unit, and naturally, the Grateful Dead, can create feelings of euphoria throughout the mind, body and soul.
The major part of the allure is Todd, whose playing is a combination of Hendrix, Duane Allman, and Alvin Lee with Steve Vai-esque flash for the added visual. His smooth vocals are a perfect foil, keeping the pot from bubbling over too soon. Another element intrinsic to the Big Head sound is backup singer Hazel Wilson, who was doing her damnedest to channel Big Mama Thornton. The sizable crowd was enraptured by Wilson's voice and down home charisma, cheering madly after every breathtaking vocal solo. I can't leave out the marvelous foundation work of the bouncing bass player who played some great walking jazz, the keyboardist who had a Jon Lord-ish barrelhouse thing going on, and the drummer who kept it all licked up tighter than Prince's baby pictures. A better way to end the festival I would be hard pressed to find, but it doesn't end here.
We ran onto the last shuttle bus and onto party central on wheels as we drove the club circuit at least three times. Everybody was singing, cracking jokes and just cultivating a wonderful drunken field-trip vibe, looking for any excuse to prolong the festivities.
Music West '97 was one to remember for posterity. See you at Bumbershoot!
---
First published in Drop-D Magazine on June 20, 1997
Index | Search | E-mail | Info | Copyright

Considering copying some of the images from this story?
Please read this first. Thanks.