Deliverance from Raleighwood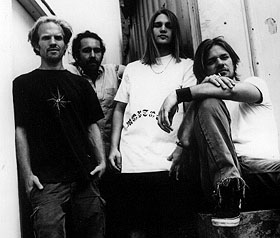 Phone tag with C.O.C. drummer Reed Mullin
Interview by Kevin Templeton
---

45-second excerpt from "King of the Rotten" (various formats)


For the better part of fifteen years, the name Corrosion of Conformity has been synonymous with the underground/heavy music scene throughout North America. For a sense of perspective on the band's Gemini-like duality, consider the group's existence as being split into decades: first, the lean 80's, when C.O.C. were releasing politically-bent hardcore records like Eye for an Eye and Animosity out of their hometown of Raleighwood, North Carolina; and second, the not-so-lean 90's, with the band finally solidifying their line-up and sound on their two latest riff-laden discs, 94's Deliverance and 96's Wiseblood.

Drummer Reed Mullin has seen it all -- to say he's "been there, done that, played the benefit gig" would be a sizeable understatement. "Half of my life I've been in this band. I was 15 or 16 when we began," Mullin explains. "Me and Woody [Weatherman, C.O.C. guitarist] started playing music together in high school and we've never quite stopped. Actually, Woody was the one who taught me to play drums... We like to play, plain and simple. I think that's a testament to the fact that we've been around for as long as we have."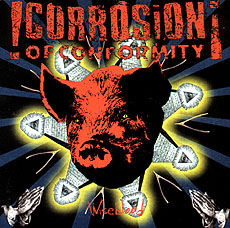 Are the members of C.O.C. finally enjoying some time off after the endless Metallica support jaunt 'round the globe? "Actually, we start our next tour on Saturday [July 12th]," says Reed. "We're putting a cool little package together with us, Machine Head, and a Swedish band called Drain. Fu Manchu are going to be doing some dates, and that'll be great -- we're big fans of theirs."
"We were out with Metallica for about nine months... [yelping] WOOW!! A trying time for my liver, for sure. I mean, all-in-all it was really fun, but now it's time to do our own thing. Hit the clubs again and do some old-school shit, medium old-school shit, new stuff. In terms of brand new songs, we don't really have that much completed. As soon as we get back from the tour I think we'll go straight back into the studio to write."
While on the topic of "old-school," I decided to ask Reed about Karl Agell and Phil Swisher, the ex-singer and bassist from C.O.C.'s transitional fourth release, Blind, and got an interesting story on Agell and Swisher' s new Raleigh-based band, Leadfoot. "Leadfoot's drummer, an old-school dude named John, used to live with Mike Dean [C.O.C. bassist], and he was the biggest pot smokin', sit-on-the-couch-and-watch-TV-kinda guy," he begins. "And he always watched The Price is Right. We'd be all 'get off your ass and do something, get out and see some sun.' [Imitates voice of slacker] 'Nope, nope, nope...'"
"At any rate, when Leadfoot were recording in L.A., John got tickets to get on The Price is Right and won a car! I think it was a Monte Carlo or something like that. Is that fuckin' badass?! I think he won a refrigerator, too."
Badass it is! Story-telling aside, one of the many traits that's kept me coming back to Corrosion of Conformity's music over the years has been the band's insightful lyrics, particularly from their 80's stuff. "It [the early material] was so politically-charged because of the times," says Reed. "We were living in Reaganomics, we were living in the threat of nuclear war. It was definitely a scary time, having someone like that in office. The Moral Majority -- I mean, there were a lot of reasons to be an angry high school kid singing very pointed, political lyrics."

"I still think that there's something to be said for all that, but, now... we've been around for so long and we've kind of done that. And we've come to terms with the fact that there's more than one way to express yourself than [with just] anger."


Corrosion of Conformity bring their tour to the Rage on Sunday, August 17. Also appearing are Machine Head and Fu Manchu (but not Drain).



---
First published in Drop-D Magazine on July 27, 1997
Index | Search | E-mail | Info | Copyright

Considering copying some of the images from this story?
Please read this first. Thanks.