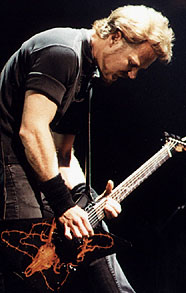 The Binge and Purge of Lars, Inc.
Metallica
with Corrosion of Conformity
GM Place
Vancouver, B.C.
Saturday, May 24, 1997

Review by Kevin Templeton
Photography by Brian Kraus
---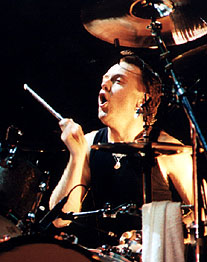 Although I never bought into the cheesy musical direction displayed on Metallica's last Bob Rock-produced disc, the aptly-named Load, it is comforting that the hubbub regarding the band's about-face/sell-out (call it what you will) has died down. I mean, it all makes for great debate and most fans of the band could probably bore the average citizen to tears with their thoughts on the subject, but, really... who fucking cares? You either bought Load or you didn't. And you either went to Metallica's pricey GM Place show or you didn't...

After the triumphant, WWF-like opening to the evening in which each member ran out to individually greet and high-five the fans surrounding the stage (except for drummer Lars Ulrich, who opted to slowly grace the crowd with his presence), the members began some warm-up riffing before breaking into the Anti-Nowhere League barb "So What," followed by "Creeping Death" and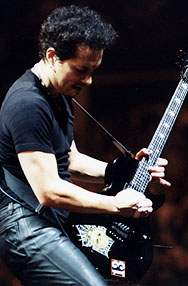 a slow 'n muddy version of "Sad But True." Thankfully, it became immediately apparent that the Metalli-dudes were in a particularly jovial (and jamming) mood, especially bassist Jason Newsted and leaner-than-ever guitarist/vocalist James Hetfield. Sir Jamez may not carry his tempered disposition of old, but he had no trouble coercing the audience into the band's newer material like "King Nothing" (a dig against self-proclaimed metal "kings" Pantera?) and the tepid "Until It Sleeps."
Not since Peter Gabriel's Secret World Tour have I seen such a complex stage set-up put to good use as Metallica's latest monstrosity was. Spanning almost the entire length and width of the GM Place floor, the stage allowed every fan on the floor a front-row position. And it all came crashing down in mock disaster at the show's end: lighting rigs fell (and swung aimlessly), equipment exploded, a lighting tech accidentally "hung" himself, and another technician ran across the stage on fire! Further blurring the lines between satire and reality -- Ulrich's idea of an original marketing plan -- it was quite the spectacle, I must admit. They even threw in "Motorbreath" and "Am I Evil?" after the 'catastrophe' for good measure. Yes I am.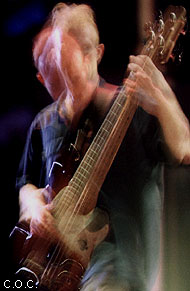 Opening the concert was Raleigh, North Carolina's bastions of barbecue metal, Corrosion of Conformity. Originally a part of the convoluted mid-80's underground scene (along with numerous other three-lettered hard-core bands like D.R.I., M.D.C., D.O.A., etc.), C.O.C. have emerged on the strength of their past three albums as perhaps the finest, and truest, metal band around. In the process, they've graduated from playing venues like the old York Theatre on Commercial Drive to more spacious digs like GM Place (not unlike Metallica's growth pattern, I hasten to add).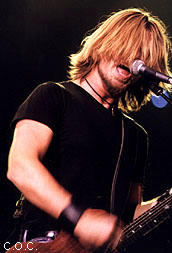 Drawing most of their set's material from last year's brilliant Wiseblood slab, the Corroded quartet opened with "Fuel" ("here we stand before the call/accused of fire, it's too cold..."), a furious, mosh-inspiring nod to the group's politically-charged past. In stark contrast to "Fuel," meaty cuts like "The Door," "Wiseblood" and "Drowning in a Daydream" chugged forth looser, Southern-flavoured riffs and rhythms, while Deliverance's "Albatross" and the Thin Lizzy-ish "Clean My Wounds" highlighted frontman Pepper Keenan's strong songwriting prowess. As the opening act, they looked a bit silly playing on a stage that closely resembled a roller-derby track, but have no fear -- Keenan hinted at a possible return Vancouver engagement for the band in or around August. Lucky us!
---
First published in Drop-D Magazine on June 20, 1997
Index | Search | E-mail | Info | Copyright

Considering copying some of the images from this story?
Please read this first. Thanks.