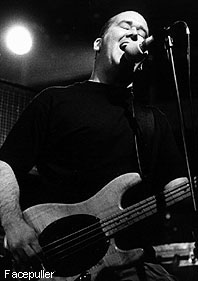 Authorized Volume Victims
Helmet
with the Melvins and Facepuller
Graceland
Vancouver, B.C.
Friday, July 11, 1997

Review by Kevin Templeton
Photography by Rodney Gitzel
---

Maybe I'm just starting to grow accustomed to the warehouse-like confines over at Graceland, but I was actually content to learn that this noisy triple-bill was prepared to shake the foundations at the Richards Street space. I mean, what venues in this city would do a show of this "stature" justice, anymore -- or at all? The Rage (where the bouncers tend to do just that), the Forum (too big, and a horrible place to see a show), the Gate? Sure, every venue has its shortcomings, and Graceland is no exception (the crowd on this night was packed in to the scaffolding, but that was almost to be expected). But I'll still take Graceland, with its numerous viewpoints, Mike's Hard Lemonade and a Pin-Bot machine, any day.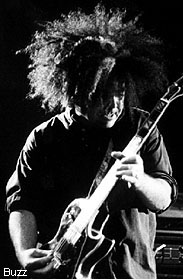 First up was Vancouver's very own Facepuller, a band that I'd heard a bit of in the past, but had yet to catch live. These audio technicians play some of the best galloping noise-rock around, complete with an authentically-crabby vocal style and volume, volume, volume. The guitarist was interesting to watch, looking like a pajama-clad Trey Anastasio (of Phish) and playing with a composed, dare I say "professional," abrasiveness, especially for noisy punk/metal. If Facepuller could be to the Melvins what Superconductor are to Guided by Voices (touring partners, that is), the world might be a better place. A local band to watch for.
You'd have almost expected the left-of-center Melvins to play a set of country tunes or something to contrast the other bands playing, but thankfully this night's sandwich was no veggie and we got the Melvins that Vancouver's known and loved for years. Opening with an obligatory feedback intro which gave way to crushing guitars and drums, the Melvins showed on cuts like "Boris," "The Bit" and "Hide" why they've been considered by many in indie circles to be three of the most underrated players on the West Coast scene since their formation in Aberdeen, Washington in the early 80's.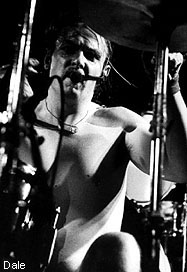 Melvins drummer Dale Crover (who plays a 'young' Neil Young in Young's "Harvest Moon" video) enjoys being the center of attention, literally, as his kit sits between guitarist/vocalist Buzz Osborne and bassist Mark D at the front of the stage. With each member maintaining his trademark look and presence of old (Osborne's crazy mop-head, Crover's underwear fetish, Mark's cowboy hat), the group put on a mammoth and uninhibited performance of the highest degree. One constant remains from every Melvins show: your attention will be had and fucked with, and their sludgy hour-long set on this eve was a perfect example of that.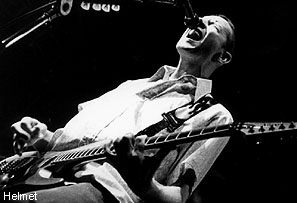 How appropriate that Helmet would call their latest CD Aftertaste, because with the Melvins' inspired and devastating set preceding them, Helmet's trip of formulative riff-chugging repetition seemed almost like an afterthouqht. And considering that you could probably compile Helmet's five releases into maybe two good ones, there wasn't a lot to be captivated by during their onstage workout. "In the Meantime," "Wilma's Rainbow" and "Pure" did some remote damage, as did "Unsung" and "Turned Out," but the flip side to Page Hamilton's grunt-metal coin isn't nearly as attractive ("Just Another Victim," "It's Easy to Get Bored," almost anything from Betty, etc.).
As the band's set slowly came to a close, I just wanted to leave and spare my eyes and ears from the quartet's indifferent bluntness. For a band as influential as Helmet's been, they left a discomforting taste in my mouth. What's that saying, "you can't get blood from a stone"?...
---
First published in Drop-D Magazine on July 27, 1997
Index | Search | E-mail | Info | Copyright

Considering copying some of the images from this story?
Please read this first. Thanks.