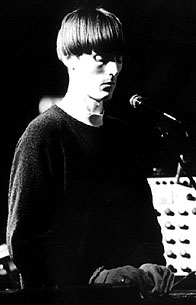 The Sound of Creation
Spectrum
with Pipedream, Magnog and the Beans
The Starfish Room
Vancouver, B.C.
Wednesday, September 17, 1997

Review by Darren Gawle
Photography by Rodney Gitzel
---

As I walk in tonight, the Beans (or, rather, two of them) are doing their best to fill an empty Starfish room with a squall of Moog transmissions and echo-drenched clarinet. I don't think I'm late, but I catch the last five minutes of ambient noodlings and that's all there is. Turns out that Seattle's Magnog was invited to flesh out the bill at the last minute and the Beans' performance was bumped forwards to 9:30. So last-minute was this decision that we're treated to the delicious sight of the remaining three Beans walking in to catch the end of their own set.

The aforementioned Magnog is the sound of feedback, 1997. In the heady days of 1967 you had the original pattern feedback courtesy of Mssrs. Townshend and Hendrix. 1985 brought us feedback Mk.II in the hands of the Jesus & Mary Chain, the magic ingredient in maximum punk petulance, squared.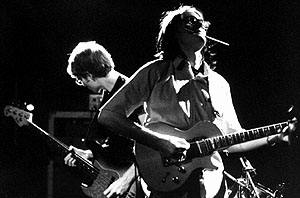 And now we have bands like Magnog and Flying Saucer Attack to celebrate feedback for its own sake. Content to just stare at their feet, Magnog may leave a lot to be desired in terms of stage antics, but otherwise they're the most compelling thing to hit a stage since the Mummenschanz mime troupe, somewhere between Inuit shamans and Ornette Coleman. There is no setlist, just one long blast of noise that lasts forty-five minutes and rocks your world to its foundations. No mistake, it's quite possibly the sound of creation itself.
(For those of us who despair of experiencing anything visually stimulating while Magnog and the equally listless Pipedream are on stage, at least there's the added treat of an interpretive dance showdown between a blonde waif, who at least appears to have had some dance instruction, and a raven-haired warrior princess, who may or may not be named Xena.)
Next up are Pipedream, who are friends of mine, so we'll bid a fond adieu here to Mr. Objectivity. Bluntly put, all local musicians should be made to witness a Pipedream show, for two reasons: (1) When you acquire as much gear as Dave and Jeremy have, the result is a setup period which easily exceeds the amount of time the band is on stage; (2) There is a world of music beyond the Tragically Hip, people. [ed. Or Pearl Jam, for that matter... ]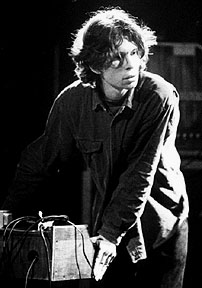 Pipedream's sound is a sound-woman's nightmare of Roland Space Echo's, bass pedals, vocoders and pretty much every type of synthesizer ARP ever put out. It's enough to send anyone who can't tell the difference between Rick Wakeman and Can running for the hills; but, for the more liberal-minded, Pipedream are the perfect soundtrack to any nightmare you've ever had... or Nosferatu, for that matter. Songs become hypnotic suite-like arrangements of over ten minutes which reel you in and then turn nasty on you. Pipedream are one of the top five bands in Vancouver, and yes, I'd say that even if I didn't know the band from Adam. Can I have my twenty bucks, now, guys?
Finally, Spectrum, a band fronted by a minor legend in one Sonic Boom of Rugby, U.K. Once upon a time he had a band called Spacemen 3 which put his theories of "hypno-monotony" and "consciousness change through repetition" through the wringer (culminating in one legendary show where the band just played one chord for forty-five minutes). Spacemen 3 eventually split, with one Jason Pierce going on to form the sublime Spiritualized, while Sonic Boom went on to... oh dear...
It's unfair to compare Spectrum to Spacemen 3, but unfortunately that's what ends up happening as you realize how far Sonic Boom's talent has deteriorated. Tonight, Spectrum sounds sadly amateurish and are out-maneuvered by the opening acts, including by less than half of the Beans. Most of the music seems to be the product of automatic writing, lyrics that verge on the banal ("Augustus Owsley Stanley, where are you now?") and semi-preachy poetry that recalls Graeme Edge's contributions to the Moody Blues' early work, right down to the painfully British-looking Sonic's deadpan delivery.
For an encore, the band returns with what Sonic terms "a little something for ourselves" -- which turns out, all too briefly, to recapture the Spacemen 3 vibe, but it's a case of 'too little, too late.' We needed some time to come down after Magnog and Pipedream. Too bad it came during the headlining act's set.
---
First published in Drop-D Magazine on September 27, 1997
Index | Search | E-mail | Info | Copyright

Considering copying some of the images from this story?
Please read this first. Thanks.