Surf-n-Burn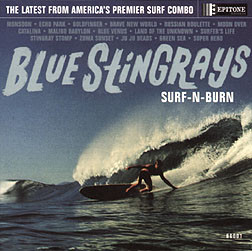 Blue Stingrays
Epitone / Epitaph

Review by Darren Kerr
---

45-second excerpt from "Echo Park" (various formats)


I was about to say this is disc is another attempt to get the Huntington Beach jocks drunk on tremolo, but if the liner notes are to be believed, then this is the real deal, from the days of gun-free beaches, woodys, clambakes and Moondoggy.

Focusing more on cool breeze surf breaks than do Dick Dale's wild monster rave-ups, this is a smooth ride. The theme from Goldfinger makes an appearance, which is not much a surprise; I don't know why spies and espionage always seem to go hand-in-hand with ominous twangy guitar, but they do, and this is a very cinematic recording.

For all this its authenticity, though, Surf-n-Burn wears on you after seven or eight songs. If you want seat-of-your-pants brilliance, pick up anything by the Mermen. But if you want simple, lazy background for your beach, this'll do fine.



---
First published in Drop-D Magazine on October 11, 1997
Index | Search | E-mail | Info | Copyright

Considering copying some of the images from this story?
Please read this first. Thanks.