Live at Carnegie Hall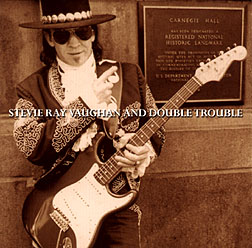 Stevie Ray Vaughan and Double Trouble
Epic

Review by Gary 'pigboy' Swartz
---

45-second excerpt from "Iced Over" (various formats)


It was October 4, 1984, the night after his 30th birthday. It was a venue he had dreamed of playing. It was an opportunity to add a couple of surprises and to try something different. He took full advantage of all of this and we're damn lucky someone decided to record it. This is an album that is meant to be enjoyed LOUD. The way Stevie and Double Trouble played their music. LOUD enough so the neighbours call the police. Or come over with a case of beer and ask you to turn up the volume.

Sure you've heard a lot of this record -- "Love Struck Baby," "Cold Shot," "Pride and Joy" -- a lot of times, especially if you watch PBS, but so what? It doesn't hurt to be reminded how high Stevie set the bar. How total was the package -- the pickin', the songwriting, the arranging, the vocals and the simple love of performing. How he held nothing back. And how deliberate it all was. You don't get that good by accident and by not practicing.

There's also stuff here you haven't heard before. Joining the trio on stage for the second half of the set are Stevie's brother Jimmie, Dr. John (the ultimate sideman), and the Roomful Of Blues horn section (the first and only time Stevie added horns). It's a combination that COOKS -- It sure as hell makes me wish I'd been there! -- and in a blues kind of way it makes you feel more deeply how truly great was Stevie's loss. There was so much music left for him to play, so much more to add to the ongoing tradition of the blues.

Fittingly, this show offered tribute covers of songs of some of Stevie's blues heroes: Guitar Slim's "The Things I Used to Do," Albert Collins' "Iced Over" and Albert King's "C.O.D." If these names and this music are unfamiliar, a little research wouldn't be amiss. I'm sure Stevie would appreciate it. If they're already part of your musical experience, hey, there isn't a blues collection on earth that doesn't need a bit of dusting off now and then.



---
First published in Drop-D Magazine on October 11, 1997
Index | Search | E-mail | Info | Copyright

Considering copying some of the images from this story?
Please read this first. Thanks.