Marchin' Already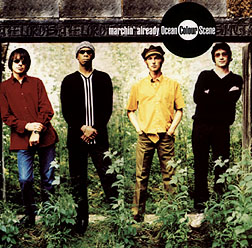 Ocean Colour Scene
Universal

Review by Darren Kerr
---

43-second excerpt from "Hundred Mile High City" (various formats)


Original tuneful rock and roll, the kind that people used to make back when Papa was a rolling stone and Aunt Gertrude met that roadie character named Roland. Marching Already has a grassroots vibe that is kinda like Paul McCartney fronting the Faces doing Neil Diamond covers (not surprisingly, "Better Day" gleefully expands on the chorus of "I Am, I Said").

Almost every one of these easy-going hook-laden tunes could be a chart-topper. And that's the problem with Marching Already: it has too much hit potential, and not enough risk taking. Ocean Colour Scene should have the confidence by now to really take it to the skies. There are some moments where the band boards a different astral plane, but they should stay in the air a bit longer. This is but a great album in a universe of great albums.

I hope Ocean Colour Scene have the vision to go beyond, on their next release.



---
First published in Drop-D Magazine on October 31, 1997
Index | Search | E-mail | Info | Copyright

Considering copying some of the images from this story?
Please read this first. Thanks.