Transmission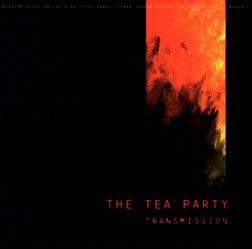 The Tea Party
EMI

Review by Suzanne Goodwin
---

45-second excerpt from "Temptation" (various formats)


This CD would have been more appropriately titled "Transition," as musical evolution seems to be afoot within the Tea Party. And the two things that hit you right off the bat are the big sound and a strong industrial influence.

Case in point: skip directly to "Babylon." A few seconds into the intro you'd almost swear you'd happened across some circa '95 unreleased Econoline Crush recording. There's no denying the Tea Party's overt use of their musical influences in the past has brought criticisms of Xeroxing; however, their current industrial bent feels less like an attempt to usurp another band's style and more like an unfolding towards a more intricate, yet expansive, sound of their own.

For example, the song "Transmission" is a richly textured blend of hammering percussion and drums permeated by loops of Lebanese funeral chants, eastern wind instruments and keyboards. This style can still be detected, albeit less obviously, in the highly radio-ready single "Temptation," where guitar and Jeff Martin's intense vocals are in the fore. The song only hints at the real contents of this CD.

Still, fans of Zeppelin-esque stylings will be pleased by its remaining and prominent presence in the Tea Party's music, particularly in "Army Ants," "Gyroscope" and "Release," the last one a brooding number offering respite from the CD's overall high cadence and intensity.

If you're a die-hard Tea Party nay-sayer, this CD probably won't be enough of a change to reel you in -- though fans and newcomers alike will be impressed with the band's richly tactile ear-encompassing sound.



---
First published in Drop-D Magazine on November 17, 1997
Index | Search | E-mail | Info | Copyright

Considering copying some of the images from this story?
Please read this first. Thanks.