Come On Home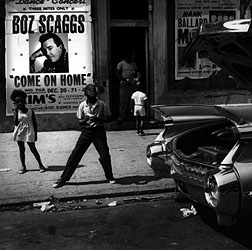 Boz Scaggs
Virgin

Review by Gary 'pigboy' Swartz
---

45-second excerpt from "It All Went Down the Drain" (various formats)


The ideal review of this R&B offering from Boz Scaggs would read, "I really, really like it. I hope you do, too." Because I had the devil's own time to put my finger on why.

However, after 30 days in the metaphoric wilderness, I've had a revelation. There's something evangelical about it. Yes, evangelical. This CD is an inspired musical testament from a true 'blues' believer. In fact, it does many of the things one would expect of a well-preached sermon. It offers a liturgy of the orthodox, in this case covers of classics: Sonny Boy Williamson's "Early in the Morning," T-Bone Walker's "T-Bone Shuffle," Jimmy Reed's "Found Love." It awes with erudition and spellbinds with a truly righteous rendition of Earl King's obscure "It All Went Down the Drain." It practices humility -- vocally, Scaggs tailors his voice as closely as possible to what the original artist attempted and the arrangements -- horns, keyboards, and his own guitar -- draw heavily on the originals, as well (making it an album about the music, not the artist). And the message proves broadly ecumenical by showcasing regional styles from the New Orleans piano on "Sick and Tired" to the Chicago harpin' on "Early in the Morning" to the Bobby Bland (Memphis-style) vocals on "Don't Cry No More."

But what Come on Home really does well is to manifest the redemptive joy of singing and playing this kind of music, a joy so profound that, even after repeated listenings, it transcends the music's familiarity and resurrects it from the purgatory into which all too many albums quickly fall.

Or something like that. All seriousness aside, Come on Home is a real testament to the enduring nature of the blues.



---
First published in Drop-D Magazine on December 15, 1997
Index | Search | E-mail | Info | Copyright

Considering copying some of the images from this story?
Please read this first. Thanks.