X Chromosomes Rock the House
Girl Feast '97 - Night Three
with Liquid Amber, Puncture, Hissy Fit, Moneypenny and Sunny
The Brickyard
Vancouver, B.C.
Saturday, November 29, 1997

Review by Alphonse Leong
Photography by Rodney Gitzel
---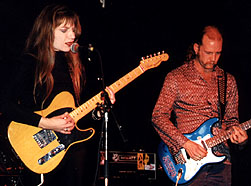 The third night of Girlfeast '97 was a pretty good mix of styles ranging from contemplative pop to metal rap to minimalistic voice and guitars.

Said minimalist act Sunny were on first, and their set wasn't very sunny. Looking like a pairing of Joni Mitchell's half-sister with Metallica's secret fifth member, the duo showcased long, brooding pieces that didn't really grab the still-small audience. The singer had a clear expressive voice and a butterscotch blonde telecaster that matched her hair nicely, but her material came and went like a hazy fog.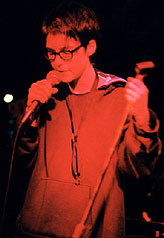 A more bouncy vibe exuded from second act Moneypenny. With playful rhythms and snappy song structures, the band drew quite a few headbobbers to the dance floor. Vocalist Jenny Shell had a sober demeanour, and her relaxed delivery was a nice contrast to the pumping bass lines. With an erratic sound mix and some unusually timid guitar playing, the songs didn't come out as well as they do on the band's independent cassette, Sabrina. Shell reeled off a fantastic sax solo on the last number, though.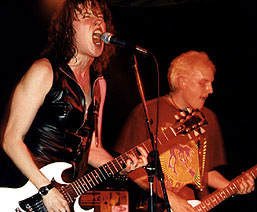 I appreciate Hissy Fit more each time I see them. Sure, Gisele Grignet's gravelly screech is an acquired taste, but once you acquire it, you savour it like your favourite tangy fruit. This night, Grignet was decked out in a sexy leather sleeveless outfit that really brought out the rock chick in her. The band's cover of "Rose Garden" was a tightly executed number that really hit the spot. Intricate arrangements and overpowering musicianship are not their style, but Hissy Fit are perfect for those moments when you just need a wave of guitar power chords and a screamy voice to perk you up.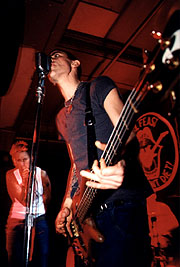 Puncture had an assaultive sound that brought out a few assaultive dancers to the packed floor. Though vocalist Meegan Maultsaid spat out her lyrics with bombastic ferocity, she had a disarming lightness in between songs. So it was kind of a jolt to hear her introduce a song like "the chapter 127" with, "This is a mothahfuckin' stickup, I'm gonna hit you with my words..." The lyrics tended to be didactic and obvious, but they seemed to make an impression on the more hardcore fans in attendance, many who were sporting colourful buzz cuts and evocative tattoos.
Final band Liquid Amber took the stage like they just came from a fashion shoot (I never thought I'd see a drummer in a shiny gold evening gown!). Although their timing and tonal accuracy seemed a little off, I prefer to think the band was deliberately trying to add a quirky element to their sound. I quite liked the meandering bass lines and the guitarist played the hell out of her Les Paul! Vocalist/bassist Andrea Hector's giddy demeanour belied a very strong, engaging voice that even her shaved Raggedy Ann doll haircut couldn't obscure.
All in all, a good wrap-up evening for the annual gathering of musicians with two X chromosomes.

See also the reviews for Thursday and Friday.
---
First published in Drop-D Magazine on December 22, 1997
Index | Search | E-mail | Info | Copyright

Considering copying some of the images from this story?
Please read this first. Thanks.