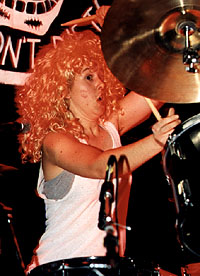 I am Woman, Hear Me Rock
Girl Feast '97 -- Night One
with Revulva, the Dirtmitts, Gaze and Clover Honey
The Brickyard
Vancouver, B.C.
Thursday, November 27, 1997

Review and photography by Rodney Gitzel
---

The first Girl Feast benefit festival, at the Columbia in November of '96, was flat-out amazing. The room was packed each night, the girl-powered bands were great, it made lots of money for the Downtown Eastside Women's Centre, and it was a lot of fun. So I was quite looking forward to the second run of the festival. The first night, featuring Revulva and the Dirtmitts, certainly seemed a good start.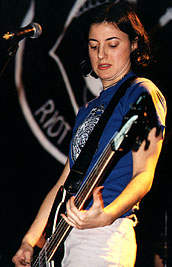 In keeping with tradition, the Feast featured a band playing their first ever show; last year it was the Go-Devils, who did survive to play the '97 Feast, too. This year, Clover Honey, a trio of two girls, one boy, were on the spot, and, don't worry, they said, "it'll only be 20 minutes." The early arrivals in the crowd -- mostly musicians -- cheered them on warmly, no doubt remembering their own first gigs. The band played jangley moody pop, vocals were sparse, and they ended on a noisy note. Yes, there's a good chance they'll be back for Girl Feast '98...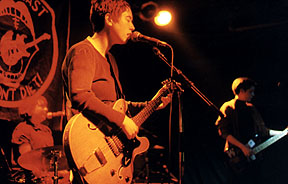 Gaze, another trio, this time all girls, played really laaaaaaaaaaaid back almost-cuddlecore. Cub on Prozac, perhaps. Like Cub, Gaze play uncomplicated tunes; unlike Cub, they do it without all the annoying chirpiness. Yay! They ended with an Everly Bros. song, and that was that.
Continuing the night's trio theme, and anxious to pick things up before Revulva put everyone in cardiac arrest, on stage came the Dirtmitts. Singer/guitarist Natasha was all done up with the fancy 'do, slinky black dress, white scarf around her neck, and she wailed. Bassist Jen, meanwhile, had mastered the disheveled look and was busy bopping around the stage and offering looks at her freshly-yanked wisdom tooth -- kept in a big plastic tooth hung around her neck -- for "a buck or a beer."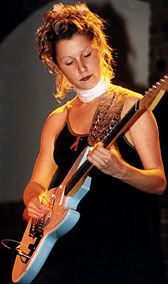 The Dirtmitts played only a couple tunes from their cassette, Catch, and mostly stuck to newer material. I am liking this band more each time I see them. Fans of strong girl-pop definitely need to check them out -- as should everyone else, for that matter.
Finally, it was Revulva's turn, and they had to hurry, as it was almost closing time. Revulva are nothing if not one of most raucous -- and funnest -- bands in town. You don't go to a Revulva show looking for virtuosity, you go for the insanity! They launched into "Welcome to Beautiful," and it was pretty obvious the whole band had taken their psycho pills before the set. Either that, or their big blond wigs were having some sort of Samson effect (later, as the wigs fell off, they suddenly became all 'normal' again...).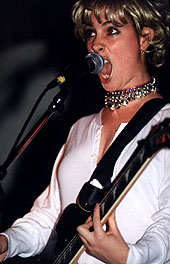 The band's drummer was being the big bad 70's rock drummer, hitting the cymbals so hard she almost launched herself over her kit! Meanwhile, their new bassist was stomping around the stage in her white dress and big black boots, karate-kicking and flailing her hair around. Yikes! "Crazy" -- with its unforgettable chorus, "You drive me crazy. I don't want to sleep with you! Yah, yah, yah!" -- was exactly that. And after a half-dozen or so songs, that was it. The crowd screamed out for more. Nope, too late, go home, come back tomorrow night. Awwwww!
Actually, this may have been the best night of the three. There was a surprisingly small crowd, but, hey, it's only Thursday. But Friday and Saturday didn't seem especially well-attended, either. While tonight there was still a sense of a festival, by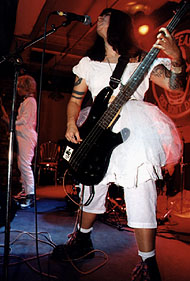 the end of the weekend, it was pretty obvious that, to most people, these were just three unconnected gigs. Last year's vibe was hardly anywhere to be felt. Bands showed up, played their set and left. People came to see one or two bands, then left.
Hello, people, this is a festival? An opportunity for the musical community to join together, to showcase themselves? (Rather than a good indicator of how pathetic the 'community' is in this city, but that's another story...). Instead, it was an opportunity for a handful of people to work their asses off, while most everyone else just did the minimum. Maybe last year's Feast was too successful, and a lot of people figured they didn't need to put much effort in, it would just succeed again on its own.

Not that Girl Feast '97 was a failure. It still made a pretty hefty amount of coin, which again was donated to the Downtown Eastside Women's Centre. Most of the bands were pretty good -- not as high a percentage as last year, but still a better-than-average three nights. And it's a great idea. Let's hope the rest of bands get off their asses and actually contribute, next year!

See also the reviews for Friday and Saturday.
---
First published in Drop-D Magazine on February 8, 1998
Index | Search | E-mail | Info | Copyright

Considering copying some of the images from this story?
Please read this first. Thanks.