Would We Be Alive?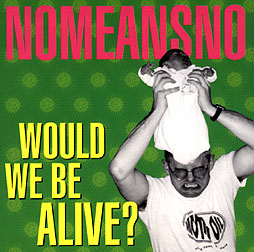 NoMeansNo
Wrong/Alternative Tentacles

Review by Rodney Gitzel
---

45-second excerpt from "Rise" (various formats)


NoMeansNo are definitely on my desert-island-band list. It would be heresy for them not to be. It's like they've surpassed being merely a band -- they're NoMeansNo! Even so, though, the quality of the band's recorded output drives all over the map. Which is fine, I guess -- they certainly can't be accused of being stagnant, and so long as they occasionally put out records like The Worldhood of the World (as such), then I guess I'll be happy.

This latest four-song EP unfortunately isn't contributing much to my happiness. What have we got, here? A Residents cover (the title tune), a couple new songs, and a studio version of the live version of "Big Dick." All pretty boring and plodding, hearkening back to their early 90's lifeless period. "Big Dick" comes off as really self-indulgent, though the double drumming keeps me listening longer than I might otherwise. Only "You Are Not One" seems to capture any sort of spirit or energy.

Go buy this to keep your collection complete, and then pray that their new CD (which they are in the midst of recording, or about to be) won't be more of the same.


If you're really curious about the new material, head down to see NoMeansNo at the Starfish Room this week on February 12th or 13th. The Royal Grand Prix will be opening both nights, along with Removal (on Thursday) and Closed Caption Radio (on Friday).


Artist Contact Info: P.O. Box 3243, Vancouver, B.C., Canada, V6B 3Y4



---
First published in Drop-D Magazine on February 8, 1998
Index | Search | E-mail | Info | Copyright

Considering copying some of the images from this story?
Please read this first. Thanks.