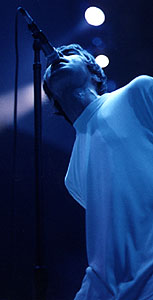 It's Only Fun Until Someone Gets a Condom in the Eye
Oasis
with Cornershop
GM Place
Vancouver, B.C.
Friday, January 23, 1998

Review by Alphonse Leong
Photography by Rodney Gitzel
---

The most confrontational statement uttered this evening was a mild comment from Liam Gallagher: "It's nice to see you all behaving... not like last time." Apart from that, it was business as usual (and, quite surprisingly, not a single shoe, coin or otherwise was tossed at the band). The 'I'm so bored with being a rock star' complaint that Noel Gallagher has been feeding the press lately seems all too genuine. Yet, I don't think Oasis can really put on a boring show: the songs are so powerful that even a routine performance seems heartfelt and charged.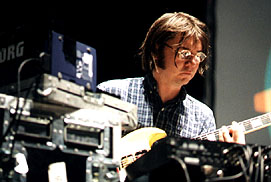 The same cannot be said of opening act Cornershop. Sure, the authentic East Indian instrumentation was pleasant, but the performance was as 'by the numbers' as you can get! Taking a riff and beating it to death is only fun if said riff is damned good, and, sadly, there was nothing in Cornershop's repertoire that really gripped your attention. Funny, I keep hearing enthusiatic comments over this band, but I don't see what the fuss is all about. Vocalist Tjinder Singh is not the most exciting guy in the world and his songs aren't exactly groundbreaking. The single, "Brimful of Asha" sounds like cheap English pop of the sixties. Apart from enjoying some psychedelic imagery on the three giant screens or noting a clever sitar line, I didn't really get much out of Cornershop's set. [ed. Well, aside from getting to see a Zip drive duct-taped to Korg's equivalent of a Minimoog... ]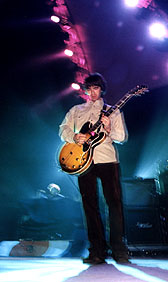 I took a stroll through the lobby during the intermission and completely ignored the overpriced stuff at the Oasis merch table. Stopping at the Vancouver Health Board's condom display table, though, I was told that, "by request of Oasis, condoms will not be handed out until after the show to prevent the possibility of packets being thrown at the stage." I was still laughing by the time I took my seat and the house lights went down...
The band coolly sauntered onstage, with Liam and Noel in identical white, long-sleeve shirts. The giant screens, which I thought Oasis had kindly allowed Cornershop to use, were missing (guess Cornershop brought their own visual equipment after all) and the stage now had a pretty appealing bare-bones rock cavern setup. Liam called out "Hallo!" almost warily, as if anticipating sniper fire from the bleachers.
The first powerful number from their latest CD Be Here Now was "D'You Know What I Mean?" and, like all the songs of the evening, it was played competently with strict adherence to the recorded version. About the only diversionary tactic employed was Liam's brusque slap at the mic stand that sent it crashing to the ground. After the song was over, he muttered, "Sorry about that... some excitement." Okay, Liam, whatever...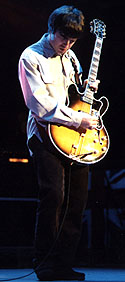 Almost as if to ram home the fact that he is the driving creative force behind the group, guitarist Noel had the stage to himself after the sixth song. Seated on a wooden chair and quietly strumming an acoustic guitar, his voice soared on stirring renditions of "Don't Go Away" and "All Around the World". Strapping on an electric and inviting the rest of the band (except Liam) to join in, he noted, "I don't know if I should stand up... I'm not feeling well." before launching into a rousing version of "Don't Look Back in Anger." I looked around at the young girls in the seats surrounding me and I could see that they were completely absorbed. Maybe Oasis are today's Beatles...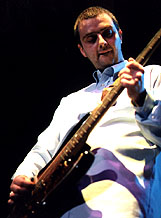 Liam did come back on stage, though, and the band went through a straight reading of "Champagne Supernova" before adding a little oomph to "Be Here Now" and "Wonderwall." Noel laid down blistering leads throughout the songs and didn't seem under the weather! With his bushy brows knotted together, he seemed the picture of passion, even if his brother seemed like a bored little kid as he wandered about or squatted at the stage's edge in between (or during) the songs.
With GM Place's upper decks closed and many empty seats ominously visible even in the dark, there was a pretty small crowd in attendance [ed. interestingly, Our Lady Peace brought out a (slightly) bigger crowd a few days later]. Yet you couldn't have convinced those present that Oasis's star is fading.
---
First published in Drop-D Magazine on February 8, 1998
Index | Search | E-mail | Info | Copyright

Considering copying some of the images from this story?
Please read this first. Thanks.