Deuces Wild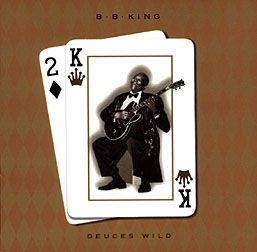 B.B. King
Universal

Review by Gary 'pigboy' Swartz
---

45-second excerpt from "The Thrill is Gone" (various formats)


Conversation overheard at a liquor store:
First clerk: "Have you heard the new B.B. King album?"
Second clerk: "No."
First clerk: "It's great. I just keep playing it over and over again."
Or words to that effect. A sentiment this reviewer gleefully echoes.
After 50 years in the business not many artists could legitimately claim, "The thrill ain't gone." The Beale Street Blues Boy can. And, on Deuces Wild, an album of duets with an impressive list of artists, he proves it in his signature style -- one note at a time -- thrilling his listeners, his duet partners and no doubt himself with each bend.
Sure, there are some weak spots. Bonnie Raitt should have stayed home: boring vocals, boring tune. And the vocals by the two Micks -- Jagger and Hucknall -- suck. On the plus side, these two do help you realize just how rich a voice 70+ year-old King still has.
But, by and large, this is a CD packed with pure listening pleasure -- not to mention underlying rhythms that should well make you get up and dance -- featuring a great selection of tunes and performances. "The Thrill is Gone," with Tracy Chapman, is outstanding, with lots of emotion and about as blue as it gets. Lead guitar doesn't get much better than the work by B.B. and Eric Clapton on "Rock Me Baby." It's hard to tell which is the King and which is God. The cross fertilizations work well, too, as when blues meets soul on "Ain't Nobody Home," with D'Angelo, and blues meets rap on "Keep It Coming," with Heavy D. And when... And when...
And why mince words? Like the lady said, "It's great." And wants playing over and over and over again.

B.B. King plays the Orpheum Theatre in Vancouver on Wednesday, March 18, 1998.
---
First published in Drop-D Magazine on February 22, 1998
Index | Search | E-mail | Info | Copyright

Considering copying some of the images from this story?
Please read this first. Thanks.