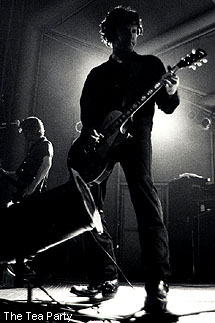 Crazy like a Fox... Fest
FoxFest '96
The Plaza of Nations
Vancouver, B.C.
July 20-21, 1996

Review by Michele Martin
Photography by Paul Clarke
---

What a great weekend! To think, I actually got to see some incredible Canadian bands, and all I have to do is write a little review. To make things ever better, I had a great spot from which to see everything, as well as a young critic -- Rob from Kelowna, visiting his friend Jeff in Vancouver -- to offer his views of the show for some added perspective.

Friday's line-up began at 5:00 sharp, the venue only half full for Sony's newest find, Starkicker, whose music is a blend of light and breezy and surprisingly wild. Nothing particularly memorable, but if you like a poppy Beach Boys sound with an alternative edge, this band may be for you.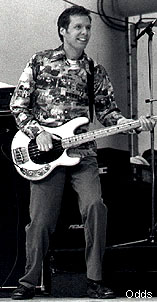 Up next, Vancouver's own Matthew Good Band, whose sound was, unfortunately, hampered by a muddy sound mix. Good's fun to watch with his frantic guitar playing and different sounding, almost gutteral voice. Some pretty intense stuff, with a dash of humour thrown in for good measure. Too many of their tunes, however, were draggy, and they failed to capture the audience's attention: even the die-hards in the front of the mosh pit weren't moving.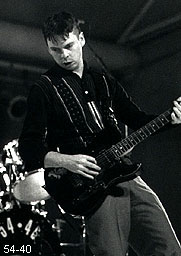 In third place, locals Limblifter. The purple-haired lead singer's gravelly voice was appealing and the crowd responded enthusiastically to his (very accurate) comment about being in a big greenhouse: "There will be no photosynthesis today!" Limblifter are unique in that band members share the vocal duties. They put on an entertaining show, displaying vitality, variety and originality in their playing.
Speaking of variety, or lack thereof, perennial favourites, Sons of Freedom, were next. Musically speaking, I love these guys, but they really, really need some new material. For something different, the band's three Dons joined up with singer Karen ("The Singer Formerly Known as Lee Aaron") to do a little number entitled "Super Bitch," a tune off their new CD (under the name "2 Preciious") to be released in August, without SoF lead vocalist Jim Newton.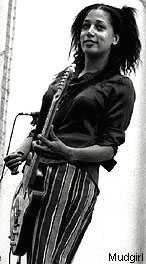 Odds took to the stage as the crowd was finally really moving and ready to pay some attention to what's happening on stage. An improved sound system made it a pleasure to watch these guys romp about on stage and generally have themselves a grand old time, playing a blend of their classic tunes with some new stuff off their upcoming CD. A little poppy for my tastes, but lots of activity, provocative, intelligent lyrics, and solid playing.
Right on schedule, headliners 54-40 were up, with vocalist Neil Osborne displaying his new short haircut -- boy, does he look different! 54-40 played a blend of the old and the new, jumping between poppy stuff and songs a little darker in tone; especially cool was their taking some of their standard stuff and playing it quicker and nastier. All in all, the show had a real edge to it, noticeable throughout all 17 songs, and three encores. I've seen 54-50 numerous times and I can honestly say this was the best I've ever seen them. What a great way to end a great day!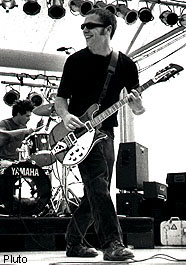 Arriving at 1:45 on Saturday, I just managed to miss local band Minority. Sorry 'bout that. At least I got to see Mudgirl, whom I missed when they opened for the Watchmen last month. Fronted by Kim Bingham (Odds' Steve Drake's new wife), Mudgirl were hampered by a lousy sound mix which distorted Bingham's interesting-sounding voice. It was too damn loud and too damn bad, because when I did get to actually hear Bingham sing, I really liked what I heard.
Slowburn were next with a solid set, although stuck with the same distorted sound mix. These guys take some chances musically speaking: it's wonderful to hear different sounding tunes for a change.
Another Vancouver favourite, Pluto, played a set during which the moshers come over the barriers faster than the security guys could catch them! The crowd liked them, and roared their approval, but there was nothing particularly exciting or different musically speaking.
Up next, Rymes with Orange, prancing and playing and making full use of the stage, as well as the front speakers. These guys know how to play to the crowd and have a lot of fun doing so. The lead singer's voice is pleasing, and the musicianship's solid througout. All in all, a great set.
What can I say about Bif Naked? Her tunes all sound the same, you know exactly what she's going to do on stage (start out sweet and demure in her hooded jacket, launch off into punchy, raunchy screaming), and there's nothing particularly innovative and exciting about how she does it. But, as my young critic points out, she does have an incredible amount of energy, and interacts well with the audience, and she did have a couple of WWF wrestlers on stage with her...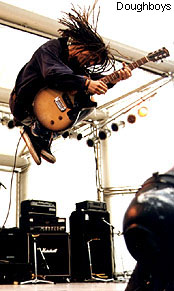 Up next, the Doughboys -- the first non-Vancouvites of the day. Man, these guys look good, the two guitar players like bookends with their matching dreads. Unfortunately, their playing isn't so hot -- they're a standard thrash band with little in the way of originality. Doughboys failed to capture the audience, who stayed pretty calm and ceased their surfing all together. My young critic says he's listened to the Doughboys on tape, and really liked them, but he's disappointed in their show today. Not one of the highlights.
Lucky for us, local maniacs Econoline Crush had come to bring us all back to life. Now, these guys not only look good, with incredible stage presence, but they sound even better. The newly blond lead singer leered at the audience, shouting "I don't mind if you throw fuckin' shoes...I don't give a shit! We came here to fuckin' rock!" Needless to say, shoes were soon flying across the stage, with Econoline Crush all the while blasting out one great song after another. So what's the verdict from my young critic: "This is the best show so far this weekend!" All too quickly, it seems, their set is over.
The Headstones kept up the energy level, belting out tunes from their previous two releases, as well as a few surprises from their upcoming CD. These guys have incredible energy on stage, and play well together as a unit. Problems with the sound system, however, resulted in a somewhat uneven set. Vocalist Hugh Dillon looked kind of frustrated at times, strutting about on stage and spitting everywhere as usual. He even seemed confused about the set list. But no matter, the crowd loved 'em.
Playing their only gig of the summer, headliners the Tea Party put on an incredible show which left the crowd mesmerized and calling for more. Blending tunes from their two past releases, lead singer Jeff Martin wove a magical spell with his powerful yet calming voice, aided by a cool psychedelic light show. The crowd bobbed and swayed and it was hard not to move to the music. It's truly amazing what three talented musicians can accomplish.
All too soon, Foxfest '96 was over. My congratulations to the organizers who put on a great party, showcased some amazing Vancouver and Canadian talent, and managed to do it all for a reasonable price and on schedule. Kudos also to those incredible security guys, friendly and smiling even as they were booted and kicked by the inexperienced surfers. Unfortunately, I was unable to catch Sunday's line-up of David Gogo, Mahones, Age of Electric, Big Sugar and Colin James. But, there's always next year...
---
First published in Drop-D Magazine on July 25, 1996
Index | Search | E-mail | Info | Copyright

Considering copying some of the images from this story?
Please read this first. Thanks.