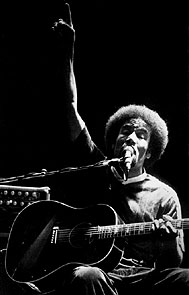 Down at the Church of Ben
25-year-old Wunderkind Ben Harper
Interview by Pieter Hofmann
Live photography by Suzanne Goodwin
---

42-second excerpt from "Ground on Down" (various formats)


With scheduled tours set in the upcoming months with the likes of Pearl Jam and the Dave Matthews Band, maybe the time is right for the likes of a Ben Harper to hit the bright lights. If sheer talent alone were the criteria, the L.A. singer/songwriter/guitarist would have seen the big smoke by now. A darling of the critics, Harper skirts any definable genre with his rich mix of folk and blues, gospel and hip hop, reggae and soul. Harper is unique, and at the ripe age of 25, the potential for ascension to the majors is well within his grasp.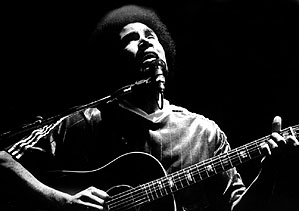 On the phone from Portland, Harper, who is on a short ten-day tour to promote last year's Fight for Your Mind, seems somewhat taken back by the critical response that his music has received. "To say I was surprised would be an understatement. I do think we [Harper and his band, the Innocent Criminals] deserved it, though. We put a lot of work into the album. Just sequencing the songs alone took months."
With a sound difficult to slot into one category or genre, it would be logical for record companies to be hesitant about even being interested in signing Harper. Virgin took the plunge, though, releasing Harper's 1994 debut, Welcome to the Cruel World, that had Billboard stating, "Some of these songs have the ring of true classics... A laudable debut." "Actually," says Harper, "I think it helped that the music was different. Not being this or not being that connects with a wider audience and maybe they saw that in our music. You have to do what you believe in."
Harper's beliefs are deeply entrenched in his music. The roots of social and political comment percolate over the sparse melodies. What separates Harper from countless other singer/songwriters is an emotional intensity and a lyrical intelligence that speak directly to the heart without any excess baggage. The stark images
and concise writing harken back to the ghosts of Bob Marley and Hank Williams Sr. The literary teeth of such songs as "Oppression," "God Fearing Man" and "Excuse Me Mr." bear witness to modern day injustices and evils, yet follow in the footsteps of gospel and dust bowl folk with their universal messages.
"I grew up listening to spiritual music, Blind Willie Johnson and folk. Folk is bare bones music. You can't be too clever with it because it's the people's music. It's the blood in the veins of the common man. You can play around with the tradition a bit, twist it to make it part of your inner self but you don't really want to fuck with it too much."
Harper and the Innocent Criminals plan to enter the studio at the end of the year to record the follow-up to Fight for Your Mind. As with the previous albums, Harper will be behind the board co-producing with J.P. Lunier. "J.P. is one bad-ass producer. We connect." Tight-lipped on what to expect on the new record, Harper simply states "We've got a bunch of material and we'll see what happens." Asked about the band's influence in the studio, he says , "Oliver [Charles, drums], Juan [Nelson, bass] and Leon [Lewis Mobley, percussion] all have a say in what happens. I listen to their ideas when we're recording. They're tight and if you got the tools, you got to use them."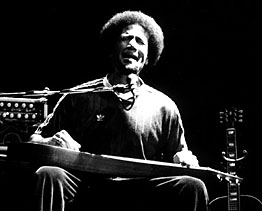 For those fortunate enough to have seen Ben Harper perform live, the almost revival meeting atmosphere that Harper and his bandmates elicit can be electric. The "Church of Ben," as an acquaintance likes to say, can be a breathtaking exploration event. With the Innocent Criminals supplying powerhouse backing, Harper seems to rise to the occasion and embrace the audience with an almost religious conviction sans any snake oil salesman hollowness.
Considering the maturity and amazing growth over a mere two releases, where Harper's inspiration and direction may take him is anybody's guess. "Right now I'm listening to a lot of different things but I listen to a lot of classical music. Eventually I would like to compose and perform classical." Those may be lofty expectations, but don't bet against him.
---
First published in Drop-D Magazine on September 6, 1996
Index | Search | E-mail | Info | Copyright

Considering copying some of the images from this story?
Please read this first. Thanks.