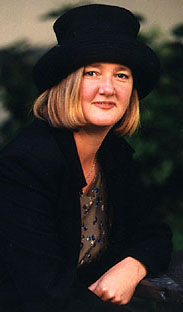 Flying Solo
Former Spirit of the West-er Linda McRae
Interview by Pieter Hofmann
Photography by Rodney Gitzel
---

45-second excerpt from "Roll on Down" (various formats)


Eight glorious years. Gold and platinum records. Touring the world. What do you do for an encore? Why, quit the band and pursue a solo career, of course. Formerly of Spirit of the West, Linda McRae has flown the coop with the blessings of Canada's Celtic ambassadors and taken a leap of faith.

While drawing deservedly-favourable reviews, her Stony Plain Records debut, Flying Jenny, has surprisingly little in common with Spirit of the West. Although electric does meet folk, McRae leans more toward country -- with a Wilco tattoo on it -- and her previous Celtic clan has left little discernible impression.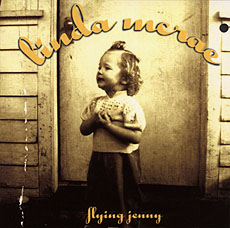 Though the break was clean, McRae had apprehensions. "It was frightening to leave the band. I had a great eight years with them. They were so supportive. [But] when I was with Spirit of the West, we were so busy that I never had a chance to write or do my own thing. I guess it was more of a timing thing." Her fears were soothed when she received a $20,000 grant from the Foundation to Assist Canadian Talent on Records (FACTOR) to record the album.
Flying Jenny, then, is perhaps more representative of McRae's influences than was Spirit of the West, where she was employed as accordion and bass player. "I love the whole Celtic thing, but I wasn't into that style until I joined the band. Country, alternative-roots is where my heart really lies. I kind of lean towards Uncle Tupelo, Wilco and more traditionalists like the Louvin Brothers." (Aptly, the title of her debut was borrowed from the Louvin Brothers' first live appearance. Playing a country fair in Alabama, in 1943, the brothers performed in the middle of a merry-go-round pulled by mules, called a "flying jenny.")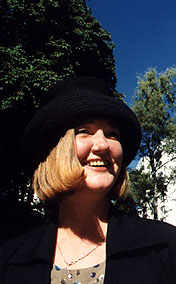 Growing up in Duncan, B.C., McRae was exposed to music at an early age. "My parents were country and western fans. The house was full of instruments like pedal steel, guitar, double bass and accordion. There were always musicians in the house." Like most teens, though, she did revolt: "I did get into the heavy metal and punk stuff for a while," she laughs. "But I eventually got back to my roots."
Ironically, the instrument McRae is best known for, the accordion, graces only the final track on the album. And James Gray, from Blue Rodeo, was the player. "I guess I didn't really hear any accordion on the album other than on 'Take Your Hat Off.' I've switched to guitar for songwriting purposes now. I've written songs on the accordion before but they're all instrumentals, usually American traditional folk," she says.
While she devoted the good part of last year to write the songs (other than the 13-year-old "Another One Got Away"), for Flying Jenny, recording time in the studio was limited to a rather scant 17 days in Toronto. McRae and producer Colin Linden (Bruce Cockburn, Stephen Fearing) enlisted an excellent core of musicians to help her on Flying Jenny. Joining McRae on the disc reads like the who's who of Canadian artists: Gord Downie, Tom Wilson, Jim Cuddy, and Greg Keelor add their magic, along with Syd Straw, Linden and Andrew Cash, among others.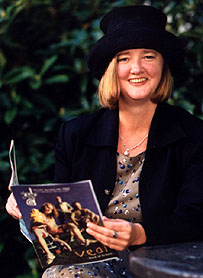 "Surprisingly, it came together quite easily. Colin was responsible for scheduling everybody to get in the studio. A lot of the people that are on the record I knew from my days with Spirit of the West. When it came down to finally recording, they were all available, which is quite incredible," says McRae. At the moment, she is assembling a band so that she can go out on the road to support Flying Jenny. Already on board are Jesse Zubot and Steve Dawson, both of the Spirit Merchants.
While dreading a November swing through Canada weather-wise, McRae still enjoys life on the road. "Actually, I love touring. I'm still a novice at it, I've only been doing it for eight years now. When you consider some bands that have been doing it for 30 years, eight years is nothing."
McRae recalls when Alejandro Escovedo and his band were in Vancouver recently to play a pair of shows at the Gate and the Railway Club. "I had dinner with them after the show at the Railway. They were touring in this van with Texas license plates. They had driven all the way from Ottawa, playing shows in between, then back across Canada again then back to Austin. And they weren't killing each other!" she laughs. "That really impressed me. They are such hard workers and they are still having fun."
---
First published in Drop-D Magazine on September 27, 1997
Index | Search | E-mail | Info | Copyright

Considering copying some of the images from this story?
Please read this first. Thanks.